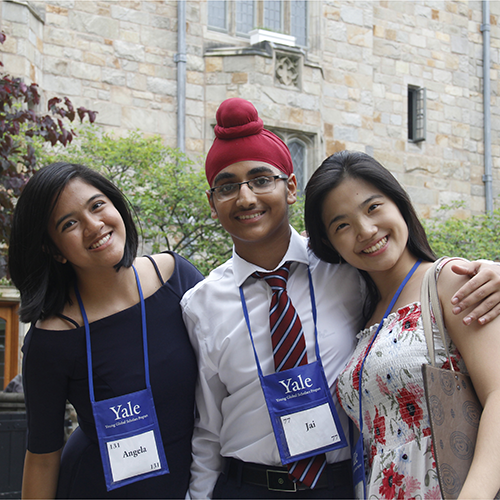 Yale Young Global Scholars (YYGS) is thrilled to announce the release of its 2018 student cohorts. 1,768 students from 126 countries and all 50 states were admitted into YYGS's largest and most diverse group of admits ever. These students were selected from an outstanding applicant pool of over 5,500 high school sophomores and juniors.
"The YYGS leadership team was very impressed with this year's applicant pool," YYGS Director Erin Schutte Wadzinski said. "We look forward to welcoming our admitted students to Yale's campus or to Yale Center Beijing this summer." During the program, YYGS students will have the opportunity to attend either one of six unique two-week STEM and social science-themed sessions at Yale, or a new session on the theme "Asia in the 21st Century" at the Yale Center Beijing. All sessions feature lectures from Yale professors and mentorship from Yale students and recent alumni.
As a summer program dedicated to international exchange and liberal arts education, YYGS seeks to empower the next generation of leaders by building a global community and designing interdisciplinary programs that foster intellectual curiosity, deepen understanding and inspire creative action across all borders. With the addition of its new summer session in Beijing, YYGS is excited to create new, unique opportunities for students from all over the world to take part in a truly global program.
Half of the students admitted to YYGS in 2018 attend high school outside the United States, and 35% of all admitted students have been offered financial aid to attend the program. Fifty-four admits are affiliated with one of YYGS's partner organizations that supports education access for high achieving low-income students. The deadline for admitted students to confirm their spot in the 2018 program is April 11.
Additionally, the Yale Young African Scholars Program (YYAS) also released admissions decisions today to 300 students from 35 African countries. YYAS is a 10-day academic enrichment and leadership program designed for African secondary school students planning to pursue tertiary education abroad and who wish to make meaningful impact as young leaders on the continent. The program is free of charge to all participants thanks to generous support from the Higherlife Foundation, and in partnership with the Whitney and Betty MacMillan Center for International and Area Studies at Yale.