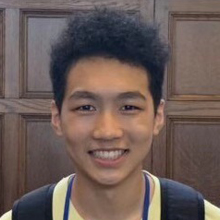 "Without a doubt, my favorite part of YYGS was the people. I met amazing people at YYGS. While waiting to get on stage during the Speaker Series, I witnessed leadership, innovative genius, and outright greatness right in front of me. I've made friendships with people from countries I've never heard of before. I'm truly blessed to have gone to YYGS and even more blessed with the friendships I made at YYGS."
I wanted to pass on my knowledge of English, and most importantly, the skill of self-studying, so I decided to use my summer vacation time to teach students, with my little startup I named ESC, which stood for Eric's Summer Camp.
In August 2016, in my tiny study in Shanghai, ESC was born. Since then, I've confronted my struggles, financially and mentally. I've faced doubts and peer pressure, most notably a series of questions: "Eric, why don't you go take some TOEFL classes or SAT classes in the summer? Why don't you improve yourself? Why waste your time to help others?"
At the same time, I've grown with ESC. I learned how to design a course. I learned how to make a schedule, which helped me to better manage my time. In 2019, I added a lecture on time-management to the course. I learned from my students and adjusted the course according to their precious feedback.
One of my first friends at YYGS was Iyed, a student entrepreneur from Tunisia, who coincidently was born on the same day as me. I saw a Facebook page of his tech startup and realized Facebook is such a helpful function. Without befriending Iyed, without that first conversation we had about China's education system, I would have never found out about Facebook Business, and I wouldn't have created my ESC page that night at Davenport College.
One of my favorite parts of YYGS was the breakout sessions, led by Zach and Emily. While enjoying a conversation of many different perspectives during a breakout session, I decided that starting from this year I would expand my class size from 1 to 4, so that a discussion component could be carried out in ESC.
Starting from this year, ESC is donating 20% of its profits to charity, more specifically, to the local community.