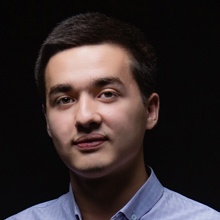 "On July 5th, I attended my first and favorite lecture at YYGS Connect. The speaker, Shu Yi Zhou, gave an empowering lecture on what it takes to be the change in this world and make a better future for everyone. Coming from a lower-class family in the US, she managed to go through various challenges in her life that resonated with me on so many dimensions. One such challenge was to overcome the "Impostor Syndrome", a feeling that was so new to me during the program that I did not know how to "cure" it. After Shu Yi's lecture, however, I realized that I had to embrace my fears, by engaging more with the community at YYGS. And I did. I was able to make an enormous number of friends during my two weeks at the program and keep in touch with them after its end. YYGS Connect was one of the most rewarding experiences that I ever had. "
Uzbekistan is one of 15 post-soviet countries. The collapse of the Soviet Union in 1991 was supposed to bring many positive changes to the economic and manufacturing industries in all 15 countries, including Uzbekistan. Unfortunately, one industry that did not witness any changes whatsoever was the educational sector which, to this day, heavily relies on the Soviet-based curriculum. This heavy reliance on the system restricts probably all Uzbek public schools from preparing children for education abroad (terms like SAT, extra-curricular activities, AP, and IB are unfamiliar to many children). And even though there are some high-schoolers who have a strong desire to study abroad and prepare for standardized tests like SAT, they usually cannot find the right people who could guide them through the process in our country. In addition, the economic disparity between Uzbekistan and many Western and South-Eastern countries doesn't allow Uzbek students to afford mentors and teachers online.
To this end, I and my friends from Yale-NUS College decided to launch a brand-new online consultancy firm - Freshman Academy - that would help students from all over the world to prepare for standardized tests like IELTS and SAT and guide them through the college application process. Since the birth of Freshman Academy in October 2019, we have released more than 100 students from countries like Uzbekistan, Kazakhstan, Russia, Armenia, Vietnam, and El-Salvador. These past 12 months have been incredibly rewarding to every member of the Freshman team because each day was filled with meaning and a goal to help students realize their dreams.