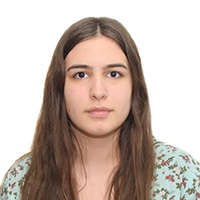 "Family Time was one of the most memorable parts of YYGS for me. I got to know my family really well and we still talk regularly. Our family leader, Deborah, created an extremely positive environment for all of us to share our opinions and values during the fun games we played."
Throughout 2019 and 2020, my friends and I have been organizing "STEM Saturday School," a grant project we won to incorporate STEM subjects into Saturday School, a club I've been part of since ninth grade. Saturday School is a weekly charity school for internally displaced students from conflict zones in Georgia. However, I always felt like it was lacking stem subjects due to the absence of proper equipment.
So, my friend Tekle Khmiadashvili (also a YYGS alum) wrote a grant proposal and submitted it to the Alumni Engagement Innovation Fund, an international grant competition with over 1,300 applicants. We ended up winning the grant and spent all of 2019 and 2020 making STEM Saturday School a reality. We were able to purchase robotics kits, laptops, and other necessary equipment, and added classes like coding, robotics, and 3D Design. We ended up introducing over 400 students to these subjects and got an overwhelmingly positive response from all of them.