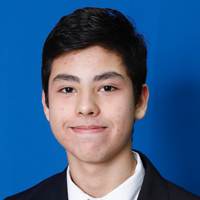 "I cannot emphasize how impactful YYGS has been in my life, and I know this will prevail in the future, by opening my mind to new perspectives and ways of thinking around the world, teaching me that age is not a limit for goals, dreams, nor solving the most critical challenges of the present and future world."
Last year during lockdown here in Paraguay, I felt moved by the number of people who were economically affected by the crisis. Seeing that the coldest season of the year was about to start, I had an idea to collect the largest amount of winter clothes I could to donate to the people that needed them the most.
With that in mind, I started asking for donations mostly through my social media and asking my family members and friends to spread the word. That is how from June to August of 2020, I gathered winter clothes for more than 100 people. It felt really good to be able to create at least a small positive change in my community. I hope my story can inspire other people and I expect to keep working on similar projects shortly.