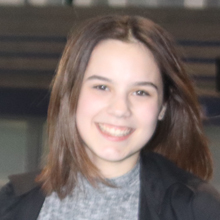 "What truly impacted me the most, was sharing a breakout room with peers from all around the world. Talking about the problems that worry our societies with people that had very unique and different perspectives from mine, made me appreciate the diversity that characterizes the human race."
As a woman jut entering an engineering major, I was struck by the ratio of women to men that enter the areas of STEM. Because of this, I decided to write a children's book in order to motivate young girls to take a career path in engineering or science.
The story follows the adventures of a young girl named Margo and how she discovers the ways in which water changes form. My objective is to communicate the importance of curiosity and thrive for learning. I am still searching for an editor and I plan to illustrate the book myself with the help of friends that have artistic abilities. It is important to promote the possibility of a science career to women because we can bring so many perspectives to the table.