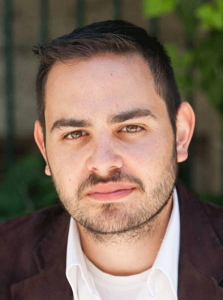 This is part of a series of articles highlighting current and former YYGS instructors and their experiences teaching for YYGS, as well as the work they're doing now, post-program.
Asaf Lubin is a J.S.D. graduate from Yale Law School who taught as an instructional staff member with YYGS for the past five summers. His research focuses on the regulation of intelligence collection and analysis under international law, with emphasis on the effects that technological advancements have had on espionage and the right to privacy in an age of mass governmental surveillance.
Lubin first started teaching for YYGS in 2015, after his first year at Yale as a Masters student. He recalls that at the time, the program was still relatively small and still in significant development. "It was a joy to see it progress over the years and mature in the way that it has," he says. In the five summers he's served as a YYGS instructor, Lubin has taught a variety of sessions, including Politics, Law & Economics (PLE), International Affairs & Security (IAS), Frontiers of Science & Technology (FST), and YYGS-Beijing. He taught one last time this past summer, during the PLE and IAG sessions.
Lubin seeks to bring his work experiences to the topics of the seminars he teaches. All of his classes and seminars pertain to topics relating to either law and technology and foreign relations. He has used his doctoral dissertation research, as well as his experiences working as a former intelligence analyst, to design seminars such as "Espionage and International Law." The popularity of this seminar led him to turn it into a full-fledged Residential College Seminar at Yale College.
He attributes the success of this seminar to YYGS. "The ability to experiment as a YYGS instructor with new materials and teaching styles was invaluable and allowed me to further develop a complete undergraduate level syllabus based around my doctoral work," Lubin says.
He has also taught seminars such as "Drone Warfare and the Laws of War," "The Deployment of Killer Robots in Armed Conflict," and "Cyberwarfare and International Law," based off of his military experience as well as his work as a former articled clerk for the Israeli Ministry of Foreign Affairs. Additionally, based on his experiences working for the United Nations International Criminal Tribunal, Lubin has taught seminars on "International Criminal Law and Accountability for Mass Atrocities," "Hacking by Law Enforcement in the Fight Against Terrorism," and "Access to Data on the Cloud in Criminal Investigations."
"One of the unique elements of YYGS is the diversity of students participating in the program," says Lubin. "The ability to teach these highly complicated (legally, politically, ethically) topics to groups of motivated and driven young adults from around the world sets the stage for fascinating discussions."
He recalls one particularly fascinating discussion: "I [was] teaching my course on drone warfare when two of my students were a NY resident, the son of a first-responder during 9/11, and a Pakistani national, who had seen U.S. drones flying above her head."
Additionally, Lubin, recognizing the value of exposing high school students to international legal research, spearheaded efforts to create a new "International Law Capstone" at YYGS. During the course of an intense two week capstone project, students get a glimpse of what international legal research looks like and are able to articulate legal arguments.
"I believe that it is one of the biggest challenges as an instructor to be able to teach complex legal concepts to high-scholars, most of whom come with no prior knowledge," Lubin says. I think of myself at their age, what I could have benefited from this kind of an experience and where would I have been if I was given this kind of training already at their age."
Beyond his doctoral research and teaching his course at Yale, Lubin is continuing to explore intelligence regulation as part of his work at the Fletcher School of Law and Diplomacy at Tufts University. His work seeks to examine whether the metadata collection program is still effective and necessary in the wake of technological and threats changes.
Through YYGS, Lubin has made amazing friendships with like-minded colleagues, former graduate and undergraduate instructors at YYGS. Some have gone on to become students in his Yale course, and others his friends with whom he remains in touch to this very day.
As for the future, Asaf is planning on entering the academic job market with the hope of becoming a law professor.
-Written by Angela Yoo, Yale College 2021