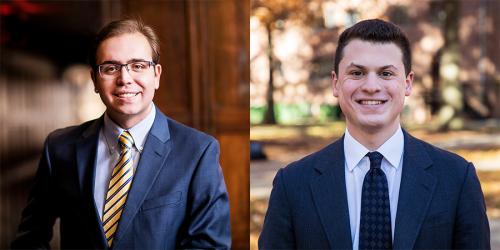 Yale Young Global Scholars (YYGS) is proud to announce that two of our former participants, Christopher D'Urso and David Shimer, received prestigious scholarships to study abroad at renowned British universities. 
David Shimer (APPLE 2012) is currently a senior at Yale University, and he was recently named a recipient of the David Marshall Scholarship. Up to forty Scholars are selected each year to study at the graduate level at an UK institution in any field of study. Marshall Scholars have gone on to become university presidents, Supreme Court justices, and more. David notes that YYGS played a significant role in his educational plans: "I actually view my time at the Yale Young Global Scholars Program as a key turning point in my life. While there, I not only fell in love with Yale, but also met Professor John Gaddis, who, over the next several years, oversaw a Cold War research project of mine that sparked my passion for history." After graduating from Yale, David plans to study International Relations at the University of Oxford.
Christopher D'Urso (PLE 2013) is currently a senior at University of Pennsylvania, and he was recently awarded the Rhodes Scholarship for graduate study at the University of Oxford. The Rhodes Scholarships are the oldest international fellowship awards in the world. Each year thirty-two students from the United States are selected as Rhodes Scholars. Christopher explains that YYGS helped shape his interest in international law: "I grew up in a relatively small and homogenous rural town in New Jersey, so YYGS was the first time I was exposed to students from around the world with different backgrounds and experiences which provided me with a more global perspective and understanding of current issues." Christopher plans to pursue a career in public service by studying Public Policy or International Relations at Oxford. Ultimately he would like to become a federal prosecutor.
YYGS congratulates both David and Christopher on their incredible educational milestones. We are proud to call them YYGS alumni, and we wish them the best of luck at Oxford!