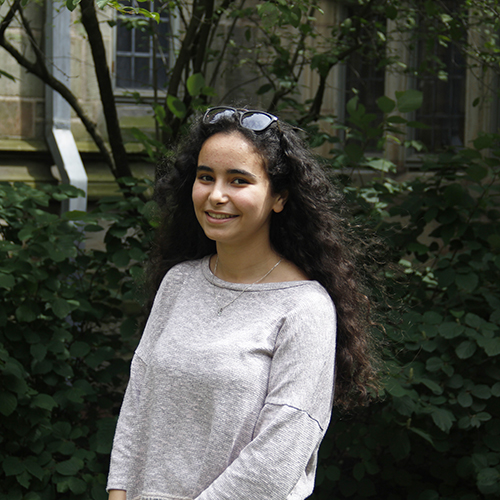 Nada is a Yale Young Global Scholars (YYGS) alumna who loves math and science. She decided to attend YYGS in order to take practical classes and grow her skill set, but she left the program with much more than that. She gained a new passion for technology and the inspiration to found a tech start-up to teach coding skills to kids interested in computer science.
While attending the Frontiers in Math and Science session in the summer of 2017, Nada met students from different countries, many of whom learned coding at a very early age. During YYGS simulation activities, students were asked to use computer science skills. Nada recalls feeling unconfident because she had few computer science skills at the time. "We don't study computer science in school, and we don't have any place here where kids can learn computer science [from] good teachers. [The only knowledge I had was] what my brother taught me," explained Nada. Her personal experience led her to realize the wider issue of unavailability of computer science education in her country, Morocco.
Thus, after learning to code herself, Nada decided to teach coding to interested kids in Morocco. She founded KidCode, an organization that aims to teach computer science fundamentals to kids aged between 7 and 14 years old. KidCode currently offers education in HTML, CSS, JavaScript, and Python. To engage young students, teachers at KidCode use websites where students simultaneously have fun and learn coding skills.
"Our goal is to enlighten these children by giving them the opportunity to study computer science and apply to international competitions to show their skill. We believe in [the] kids' potential," says Nada.
KidCode is currently active in Tangier, Morocco, but Nada plans to adapt  this program to other cities in Morocco before expanding into Africa. "Our goal is to have our own centers all over Morocco by the end of 2020 and reach the maximum [number] of kids [we can]," Nada tells me.
Since KidCode is still a young start-up, Nada recognizes that it is a work in progress, but she is confident that KidCode can make an impact in the near future. "During my work in KidCode, I learned that an idea can enlight many people, and that if you do what you want and what you love, things will become easier. KidCode has become part of me and I wake up each day [excited] to continue working on it and help as [many] kids as I can."
Learn more about KidCode and their work here:
Facebook: https://www.facebook.com/KidCodeMorocco