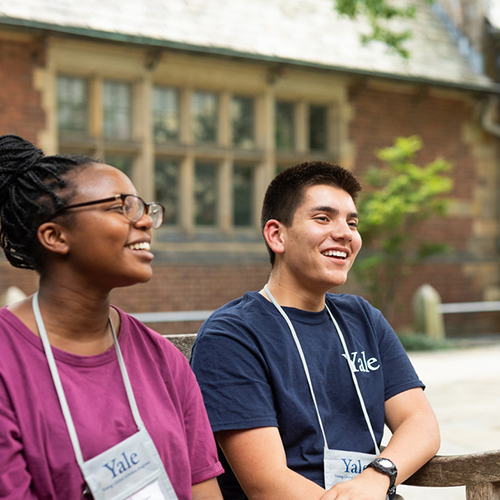 Yale Young Global Scholars (YYGS) has released its application for next year's program, offering twelve academic sessions at Yale. Participants will experience life as a university student by attending lectures and seminars, meeting peers from around the world, and accessing opportunities across Yale - ranging from admissions panels to conversations with Yale faculty.
YYGS is a two-week summer academic enrichment program for high school students. It is one of the most global, accessible pre-college programs in the world. The program serves 2,400 students from around the globe and distributes over $3 million in need-based financial aid equally to domestic and international students.
Due to the coronavirus pandemic, YYGS was unable to host sessions on-campus last July, so staff quickly pivoted and offered a comprehensive virtual program instead. The pilot program, YYGS Connect, maintained core academic and social program components, and offered need-based financial aid to eligible students. Over 1,200 students participated in YYGS Connect, representing over 130 countries (including 47 U.S. states and territories).
"I really appreciate how hard YYGS staff worked to move the program online instead of cancelling once we could no longer come to campus. YYGS really gave me the opportunity to explore my interests at a deeper level and gain new perspectives through talking to people from all over the world. I'm excited to see where my time in YYGS will lead me next!"
-Sydney Benson, YYGS 2020 Alumna
YYGS is excited to host campus sessions for June & July 2021, but if that is not possible, we will notify students by March 5, 2021, and participants will have the option to attend our virtual program (YYGS Connect) that ran successfully last summer.
"Although it was a virtual offering rather than in-person, the entire YYGS staff did an extraordinary job to provide our son with an exceptional experience. Every day, he couldn't wait to receive his schedule of lectures, seminars and simulations, and our nightly dinner discussions were filled with his enthusiasm for the topics and faculty. Peer collaboration was also greatly encouraged and nurtured and our son left the program with new friends and thought partners from around the world."
-Anna Orientale, YYGS 2020 Parent
Whether virtual or on-campus, YYGS will offer a range of academic sessions for students to choose from, specializing in cutting-edge topics within the STEM, social science, cross-disciplinary, and humanities disciplines. This summer, YYGS has combined its previous STEM offerings into a unified STEM session: Innovations in Science & Technology (IST). Students will explore a wide variety of biological, physical, and applied science topics by applying scientific principles to real-world problems.
Interested students can apply early to receive a discount on the application fee. If the fee poses a financial burden, students can submit a fee waiver to reduce the application fee to $0 USD. For more information, visit the How to Apply page: https://globalscholars.yale.edu/how-to-apply.
Early Action Deadline: Nov 10, 2020 at 11:59PM ET
Regular Decision Deadline: Jan 12, 2021 at 11:59PM ET