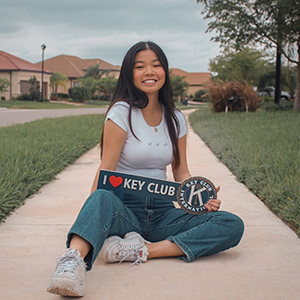 After months of global quarantine, the Yale Young Global Scholars' community still seeks innovative ways to respond to the coronavirus pandemic. Current participants and program alumni are continuing to work diligently to make a difference and combat the effects of COVID-19 in their home countries. Following last month's coronavirus initiatives, here are the newest updates from our global network:

Daniela Rodriguez  | YYGS 2020 Admit from Peru
With the goal of supporting medical staff in her community, Daniela worked together with friends to raise money by washing cars in her neighborhood. The group of teenagers donated all proceeds to area hospitals for the purchase of biosecurity equipment.
---
Joey Chen  | LPC III 2020 session from FL, USA
Joey currently serves as the district governor for the Florida district of Key Club International. She began the Keys for Kids project to empower youth and children in need during the pandemic. Her organization helps promote community service and leadership opportunities by organizing initiatives like sewing face masks and providing free online tutoring to middle and elementary school students.
---

Kshitij Deodhar |  ASE 2019 session from India
In collaboration with Atria University  and several private companies, Kshitij is developing a contact trail tracing app that gathers comprehensive data to map positive COVID-19 hotspots on city maps. He is currently in Beta testing and hopes to release the application very soon.
---

Owen Tan   | ASE 2019 session from NY, USA
 Owen designed and created a DIY mechanical ventilator for COVID-19 patients that is affordable and simple to build. He created a low-cost ventilator using standard PVC pipes, fittings, and several 3D components that were designed to be easily printable with typical consumer-grade 3D printers. Owen is currently sponspored by Onshape and Advanced Circuits. He is currently waiting for his design to be approved before creating a website with instructions for creating his mechanical ventilator.
---

Jeffrey Chuong |  BBS 2019 from TX, USA
Food for Heroes is a nonprofit that Jeffrey started with his friends in Houston, Texas. The organization's mission is to support both local restaurants and COVID-19 frontline workers by coordinating meal deliveries to healthcare workers. The group accepts GoFundMe donations and uses the proceeds to coordinate deliveries from area restaurants to Baylor St. Luke's Medical Center and Memorial Hermann Southwest. Jeffrey's organization has delivered over 200 meals to medical workers. Their work was recently featured in the Houston Chronicle.
---
Rhea Shah   | BBS 2019 session from Kenya
Inspired by her love of music, Rhea started an initiative that uses music to raise funds for children in Nairobi who are suffering from the lateral effects of the pandemic. Music Beats Covid encourages others to make donation and spread word of this fundraiser by creating a song or instrumental for social media. By using the hashtag #musicbeatscovid, Rhea hopes that others will become inspired to create music and support her campaign. The money that Rhea raises will be donated to charities that provide food, shelter, and remote education for children in Nairobi.
---
Whitney Clarfield | FST 2019 session from CA, USA
Whitney is Club President of her school's chapter for Operation Smile, and the organization has provided fresh meals at COVID response units around Los Angeles, California. Since the start of her chapter, Whitney has provided over 150 meals for first responders each week. 
---

Alexandra Camargo | PLE II 2019 from CA, USA
This past year, Alexandra served as President for Future Leaders of America Master Achievers, which is a Latinx-led group that tackles social justice issues. This organization has fought to increase educational equity for students of color and  secure non-citizens the right to vote in school board elections. Alexandra is currently fighting for a rent freeze to help low-income essential workers during the pandemic.
---
Sandra Chiu | SDSE 2017 from USA
Sandra Chiu is supporting the Wave Learning Festival, an educational platform organized by students at Harvard, Stanford, Northwestern, Williams, RISD, and SLO, where college students and high school upperclassman teach virtual seminars on a variety of topics, ranging from mathematical origami to modern philosophy. Intended for high school and middle school students, classes are free with an optional donation, and Sandra hopes to donate all proceeds to nonprofits for COVID-19 relief. The organization has over 40 students from across the United States who are interested in participating, and Wave Learning Festival is also accepting teaching applications too.
Yale Young Global Scholars hopes that you enjoyed our second issue of YYGS COVID-19 initiatives. Our next feature article will focus on amplifying the voices of black and brown YYGS alumni who have started projects or initaitives to fight racism. If you are an alum who would like to share your anti-racist initiative, please Share Your Story.