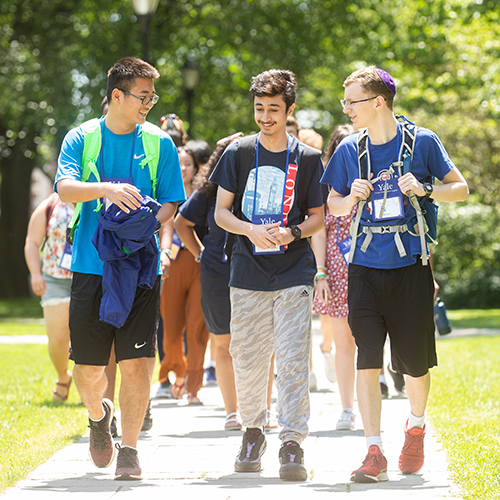 Yale Young Global Scholars (YYGS) is excited to extend offers of admission to students from over 150 countries and 50 U.S. states to attend this year's academic summer program.
Students were selected from an exceptionally competitive pool of over 8,500 high school sophomores and juniors who submitted applications. This is the highest number of applications YYGS has received since its inception in 2012.
"Each year, YYGS receives over 7,000 applications from outstanding students around the world, and I am humbled by the interest and enthusiasm generated this year in particular. I think everyone, including YYGS staff, is ready to return to campus, and we're so grateful for the time and energy our globally diverse community is putting in to ensure they can travel to Yale." -Zeva Manvi, Associate Director of Admissions, Yale Young Global Scholars
Students will spend two-weeks attending an academic track that will cover topics in STEM, humanities, social sciences, and interdisciplinary studies. Students will have the opportunity to immerse themselves in a global learning community while experiencing life in a university setting. This summer marks the first time YYGS will return to campus in three years, after transitioning to a remote model during the pandemic.
"Our staff is deep in preparations for returning to campus in June. We are so excited to bring students together in-person, and we are making every effort to make students feel comfortable and safe in a residential environment post-pandemic." -Elena Gosalvez Blanco, Director of Yale Young Global Scholars
During the program, participants will live in the Pierson, Davenport, and Jonathan Edwards residential colleges. They will attend program components including Yale faculty lectures, small-scale seminars, and Capstone research projects throughout the day, while exploring College courtyards, studying at Yale libraries, and exploring the city of New Haven during their free time.
As a safety precaution, all participants must be vaccinated against COVID-19 before traveling to campus. YYGS has outlined tentative policies on its COVID-19 updates webpage. Please know that these policies may change, and YYGS will ultimately defer to Yale's most updated visitor policy by the start of the program.
If interested in Yale Young Global Scholars, please join the YYGS mailing list to be notified when the next application becomes available in September 2023. Each year, YYGS offers $3 Million USD in need-based financial aid to U.S. domestic and international students.