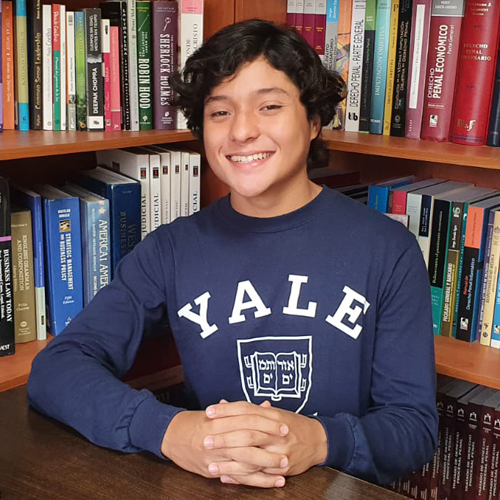 Yale Young Global Scholars (YYGS) is excited to welcome a record number of 2,400 outstanding high school students from 144 countries around the world (including 50 U.S. states and many U.S. territories). Beginning in June, participants will attend YYGS Online, a virtual two-week program that facilitates global conversations within an academic framework, covering topics in social sciences, STEM, humanities, and cross-disciplinary studies.
This summer's program will introduce students from new-to-YYGS countries, including Lesotho, Liberia, and Timor-Leste. The summer program prides itself on its unparalleled global diversity, and the virtual setting of YYGS Online helps increase accessibility for students from around the world during the pandemic. Program components will include a mix of collaborative problem-solving simulations, social activities, and lectures from esteemed Yale faculty.
 "I realized that YYGS' ability to challenge students is exactly what makes it a truly worthwhile experience. YYGS pushed me to ask questions when answers have yet to be discovered, and the program exposed me to ideologies, philosophies and events unfamiliar to most. Family Time, simulation, and my work on the media team as a content creator allowed me to meet some of the most impressive, potential-filled persons I am now proud to call friends." -Rachelle, YYGS 2021, from Jamaica
This summer marks the third year YYGS will hold sessions online to ensure accessibility and safety during the pandemic, and YYGS staff are dedicated more than ever to provide participants with a Yale experience and direct access to university resources. The program has a 12:1 student-to-instructor ratio and runs all components live to ensure participants stay engaged in critical conversations. This summer, nearly 80 undergraduate and graduate student instructors will teach seminars to YYGS students. Instructors often design seminars to explore topics based on their personal passions or graduate research. Past seminar topics include, "The Science of Sleep" and "Artificial Intelligence and the Law: The Effects of AI on Criminal Justice System and Democracy."
 "YYGS had a wide selection of seminars that allowed my daughter to dive into her area of interest for college and also explore new topics.  She was so engaged by the content that she became focused on a path that very much aligns with her academic and extracurricular interests.  YYGS gave her this invaluable opportunity with a group of like-minded students and faculty that would have been difficult to achieve in her college setting.  I was so happy to see her end the program with so much enthusiasm for both the learning and friends she experienced with YYGS." -Marilyn, YYGS Parent, United States
---
While YYGS is no longer accepting applications at this time, we encourage you to join our
mailing list
and receive an update when the application opens for Summer 2023 in September.