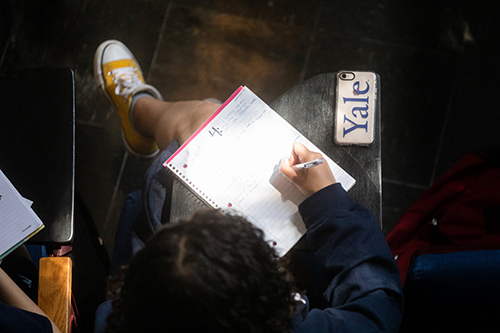 Yale Young Global Scholars (YYGS) is an exciting summer opportunity for high school students around the world, including 150 countries and 50 U.S. states. When Misheel Damdinchoimbol initially applied for the program's Politics, Law, and Economics (PLE) session, the pandemic hit and she was quarantined with her family for eight months. Facing financial difficulties, Misheel deferred to the following year and chose a different session instead: Innovations in Science and Technology (IST). "I just wanted to try something new and it was one of the best decisions I've ever made," she said.
Misheel faced one problem though—her family still experienced financial struggles from the on-going pandemic. While she received over $3,000 USD in financial aid, Misheel still needed to pay the tuition remainder, totaling $500 for online tuition costs. Not knowing what to do, Misheel reached out to YYGS: "My parents didn't really know about [the program] and if it was really worth the extra money…they said, 'Maybe first you should send the financial aid request form, see how it goes from there, and then we can talk about it more.'" YYGS sent the supplemental form, and Misheel completed the information, submitted her family's bank statements, and took it "step by step." She eventually received a full-tuition scholarship.
After attending YYGS Online, Misheel went back to school equipped with a new perspective. She was initially "more of a humanities person," but after engaging with STEM lectures and seminars, she realized that she was "thinking more mathematically." Misheel took advantage of this opportunity to gain more knowledge. "As long as you show that you love learning, and you still want to learn different subjects and expand your view… then that's an amazing choice…. I think it's good to look at the world from different perspectives and choosing IST really helped me do that. Don't just choose the things that you think you have to do."
YYGS is dedicated to providing this unique learning opportunity to students regardless of financial need, and each summer the program disperses over 3 Million USD in need-based financial aid that covers up to 100% of tuition costs. To be considered for financial aid, students must complete the financial aid portion of the online admissions application.
"I thought [YYGS Online] was not going to be as interactive. I thought I was going to sit down, look at a lecture, and that's it," Misheel said. "It turns out [that] there was so much interaction. We always talked about our seminars and our seminar instructors always asked us questions, 'What do you think about this? Talk about this….' It felt like it was in a classroom…. Even if you can't attend the residential program, then the online is very fun too."
For more information, please visit Yale Young Global Scholars' website: https://globalscholars.yale.edu/
YYGS is no longer accepting applications for Summer 2022. Please join our mailing list to be notified when the Summer 2023 application becomes available in September.
Article written by Isabella Dominguez, YYGS Alumni 2019