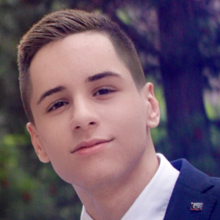 "The month of YYGS, Bosnia and Herzegovina was under serious quarantine regulations. A harsh country-wide curfew was instated and it has a profoundly negative impact on the mental health of a lot of Bosnian citizens. I was doing my best to keep myself occupied and productive, and Yale Young Global Scholars Connect gave me that extra push I needed.
Both the fellow scholars I talked to daily and the distinguished professors that encouraged us were radiating so much positive energy that one could only feel good. YYGS made me focus on my self-development and personal growth both during the length of the program and after. It had an immensely positive impact on me, helping me stay collected and motivated in a time of great uncertainty. "
Muhamed organized his city's first TEDx event with the help of 20 young organizers. TEDxMasarikova, named after a prominent street in Zenica, Bosnia and Herzegovina, centered on the theme: A New Age. "I am working on inspiring young people to take significant steps…to contribute to a better future in various ways," says Muhamed. Speakers ranged from TV personalities to brilliant artists and scientists who shared innovative ideas in their areas of expertise. It was an inspiring, informative event that left a positive impression on five thousand live viewers.