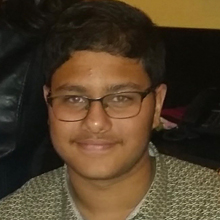 "YYGS has helped me develop a global outlook to view the world's problems as my own."
I co-founded a nonprofit organisation called VHuman alongside a few of my friends to empower students in government schools to solve everyday problems in their lives ranging from issues like child labour to gender inequality in their homes and communities. We also aimed to create a strong sense of community within the schools, through self and peer development programs, so that students could support themselves and their peers during difficult situations both in life and during their education.
After a month of planning, we started conducting sessions every week making students aware of these issues through hands-on activities and presentations. Q-Boxes were kept in every school that we worked with so that students could reach out to us regarding questions, suggestions, and any issues that might have been facing in their lives. We partnered up with many private schools around the city to conduct one-day lectures in their institutions and distributed posters and pamphlets to be put out all over the city to make our organisation more accessible. Helping a child has given me a sense of happiness unparalleled for me in my 18 years of existence.
Today, after having worked with over five schools and 600+ students, the primary aim of our organisation remains the same: helping as many children as we can. To achieve this, we have also started volunteer training programs for high school students in major parts of the city. We aim to create a supportive community of high school students in order to support underprivileged students in government schools. Through our efforts, we hope to make the world a little bit better every day.
While this seemingly ideal society we hope to one day create may seem to be a far fetched dream, we are only getting started!