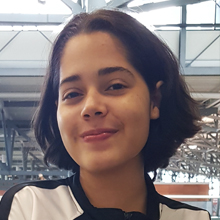 "I shared this unique [YYGS] experience with people from different parts of the world and from very different cultures, with different perspectives, experiences, customs and traditions. With activities such as TED talks, family time, talent shows, simulations, etc. we strengthened our ties as partners, friends, and YYGS siblings. I made many friends with whom I shared lessons, experiences, and memories, and thus expanded my academic and social support network."
My dream is to be an astronaut and I'm always looking for opportunities that lead me to learn and challenge me to give more of myself. This is how I found PoSSUM 13 International Microgravity Flight Challenge, which invites student teams, led by women throughout the world between the ages of 13-17, to propose a task or experiment for the scientists/astronauts of the PoSSUM Project to carry-out during the microgravity flight campaign that takes place from October 7-11, 2019 at the National Research Council of Ottawa, Canada. Whoever was the leader of the first-place winning team would have the opportunity to fly aboard a Falcon-20 aircraft which would perform parables that simulate microgravity conditions.
On September 20 of this year, I was notified that I won the first place in the competition with my research project, "Magnetic Force in Microgravity," that examines how Lorentz forces (forces exerted on charged particles moving through electromagnetic fields ) control the movement of an object in microgravity conditions. My proposal could be applied to create artificial gravity which is of importance in space exploration.
As leader of the winning team, I traveled to the National Research Council of Ottawa, Canada where I had the opportunity to experience microgravity, which is the experience (of people and objects) during the free fall and represents the feeling of experiencing a Zero G Force, or zero apparent weight during steep maneuvers called parabolas, which were performed by a Falcon 20 aircraft, which allow researchers to experience repeated periods of weightlessness.
I learned a lot from all my flight campaign mentors and companions, I feel very grateful for all the support and attention that I have received from everyone.