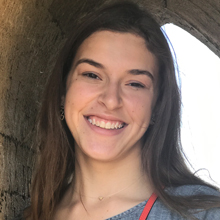 "In my first seminar, Failure: Putting Radical Madness into Madness, I was able to analyze the concept of failure through a different lens. Prior to the program, I was afraid of it. I shoved it down and laughed it off. However, rather than stigmatize it, I was encouraged to welcome it and embrace it as a precursor to growth. It was intriguing, liberating, and almost therapeutic."
I climbed up Harkness Hall's stage, pulled out my cracked phone, and claimed (while my heart was beating in my chest), "Pockets are a luxury," to nearly 167 people.
Women's jeans pockets have always been my biggest pet peeve (despite them being so small) and that day, I had had enough. Before I was set to speak, my phone fell out of my pocket and plummeted down the concrete stairs. I could see my mom shaking her head all the way from Florida, saying "Te lo dije [I told you]. You should have brought a purse." It was perfect timing.
When I completed my speaker series on pockets, I didn't realize how big of an issue they were until several women, from different countries, approached me. They crammed their fingers into their front pockets, groaning about their extreme "littleness." "Are you actually seeing this? What, why, how?"
Suddenly, a research project is born.
Why are women's jeans pockets small? What are the specific socioeconomic motivators in regards to the issue? It can't simply be purses - purses are not pockets. They can be stolen, abandoned, and strain a woman's back and shoulders.  There is also considerable demand for deeper pockets due to frustration. Could it be with gender norms integrated within economics? That's exactly what I'm trying to solve.
If it wasn't for YYGS, I would not have embarked on this research journey. It's slightly ambitious but - for the sake of my phone and all my ladies out there - it's worth questioning and analyzing.
There are too many social inequalities in this world. Who knows? Maybe it takes digging deeper into a pocket-sized issue to find a resolution.