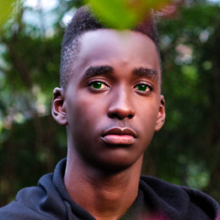 Every time I sat by Lake Victoria, there was always that moment. That moment when I stop, and just glare at the watery world and the beautiful scenery around it. In early hours, it almost felt like I was in a tourist brochure, staring at the sheer beauty of the Bismarck rocks flanked by busy sailors and the deep blue sky emulated in the watery mirror, while in the afternoons, the lake lay silver in the bright light of the noon sun, not a perfect ovoid like a looking glass of old, but irregular like an ink-splat on aging concrete. On one particular evening, the lake was glimmering in the ripe light of dusk, and I couldn't stop but imagine how breath-taking that scenery was and how valuable it'd have been if put in a photograph.
Not long after that evening, I called my parents, and asked for a professional camera, so that I could put my imagination to use. Little did I know, it was the beginning of a journey of a lifetime. I spent four months learning how to work my way around a professional camera through reading photography blogs, watching videos on photography tricks and hacks on YouTube, and even learning how to properly edit and develop my personal style. Feeling confident enough with positive comments I received from my family and friends, I decided to put photography into full practice by publishing the school yearbook in my tenth grade. Working mainly as photographer and graphic designer, to my surprise, my favorite memory doing that project was the conversations that I had with people as a "Hey, can I take a picture of you!?" bloomed into friendships, mentorships, and in some cases fellowships. 
I kept feeling that these stories had a great potential all together, but I just couldn't figure out how! Throughout the year, ideas kept crossing my mind all the way through summer, but I still didn't have a clear plan until I met a dashing South African girl at the Yale Young African Scholars program. I was captivated by the way she thinks, and more so by her story about how she became a feminist. And it was during that program, that I had a life-changing experience, because I deliberately decided to collect narratives from as many participants as possible. As an avid believer in the power of visual storytelling, I initiated a responsibility of reaching out to people about their backgrounds and journeys, and within a short course, I found myself with many ordeals about my community and my continent that had gone untold. It reminded me of how the media portrays Africa and poverty con-substantially, which is quite contrary to the industrious mothers and innovative youths whose stories, I believe, haven't been covered yet, and perhaps, their journeys could inspire people to pursue their dreams, work harder, learn what choices to make, or even what to avoid in certain cases.
I decided to learn basic journalism, while digging up enough anecdotes to share weekly for at least six months. I named this project "Youth Story Time" and I chose Instagram as a platform that I'd divulge what I had been working on, before I went on to start a blog. Youth Story Time has brought me closer to the community, to walk across the streets in the city to hear people out on their intriguing stories of fear, hope, triumph, and desire. With questions like, "What's your greatest struggle right now?" I have never stopped being amazed on how some people would fully open up to me and deeply talk about things I'd never imagine. Some conversations could get too personal (I say too personal because of how short our meetings are) and I have had to learn how to handle the situations.
To a greater extent, Youth Story Time gave me a chance to learn a lot more about people I know and those I thought I knew, and as a privileged youth coming from the same streets, I've been feeling responsible to show others the great potentials that our countries holds and even do my best to change youths' mindsets by showing them vivid inspirational stories of people coming from the same conditions, who have achieved somethings in their lives despite all the odds. It has also helped me in shaping my perspective about values and beliefs of different people.
Exploring and honing my interest in photography was intimidating initially, because I didn't know what I was getting myself into. But like dipping my toes in the cold lake water, I took a shot anyways, and look how far I've come! It's not how good my photos have come out over time, nor how well I've learned to develop presets, rather how insanely humble and disciplined I have grown over the past few years. I have had the chance to be in rooms with some of the most incredible people around me, and I have been able to pick up their wisdom and share it with the world. If there is a quality about me that I definitely pride myself in, it's my desire to learn for the sake of learning. And the more time I spent preparing posts for Youth Story Time, I've found myself enjoying both the beauty of photography and people.