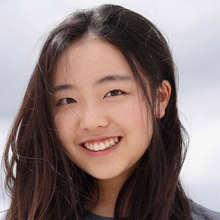 "I've grown the tightest bonds with motivated, like-minded peers from (literally) all over the world. Leaving the program, I promised myself that I will work harder to first and foremost be able to present myself to the amazing friends I made at YYGS. By staying in touch with each other, we will keep each other accountable to become better people and to make a greater impact in our communities."
Inspired by all the creative and motivated individuals I met at CAM, I started a choreography project of my own after leaving the program. The idea grew from my capstone project at YYGS, in which our group explored the word 'belief' and created a choreopoem stage to demonstrate our understanding of the word. As I endured my ACL injury throughout my experience at Yale, I was able to test my limited physical abilities along with my zeal for dance and the stage while working on the project.
While I am unable to train in dance until next September, I figured I could still carry on my passion for dance by working as a choreographer and a coach for novice and advanced dancers in my community. I am currently working on two choreographies: one solo routine to be made into a dance video and one group choreography to be performed at my K-Pop dance team's annual charity fundraiser concert in January. I've been coaching dance practices for novice groups of dancers for the show as well. Soon I hope to choreograph pieces for my studio and school dance team teammates, and share my crafts with a bigger audience on an established platform, perhaps on a website or a YouTube channel.