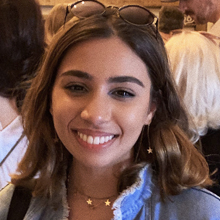 "During the program, I created a short documentary-style film where my group interviewed YYGS instructors and friends on our Capstone project of 'Love'. By creating a film to capture YYGS, we sought to highlight the best parts of those around us, and the responses to the piece were emotive and filled with a rawness elicited by the connections made in the somewhat vulnerable interview process. As an avid lover of filmmaking, this project was perhaps the highlight of my experience at Yale, and the film now acts as a keepsake to remember the trip by."
 Almost two years ago, I became a member and overseas ambassador for the National Youth Theatre of Great Britain, where I trained as an actor, writer, and director during the summer. The NYT has taught me the importance of theatre as an expressive art form and how it can impact so many lives for the better. This experience sparked my interest in spreading drama and really getting to know the people it affects.
For this reason, I began  'ACTION DXB' - a new take on community theatre. This is a project that, through a series of classes, promotes expression and confidence within the wonderful women at the labour camps in the United Arab Emirates. My main aim was to really highlight the benefits theatre has and to build morale within the community.
For the past year, I have led a class of around 15 women using some of the drama games and exercises I learnt from the National Youth Theatre that hone several skills (such as team building, focus, empathy etc.). I wanted to create a very fun, yet very safe space where the ladies feel that they can truly be themselves. The exercises have been a combination of movement-based activities, to vocal workshops and even dance-related classes, so there really is something for everyone.
After getting to know these women on a personal level, we have been working on a short play based on the lives of some individuals. After working with the group, this play could even be performed and showcased to the rest of the camp! I think this would be a great opportunity to make each person feel really valued and truly brave, simply by taking part in a short class during the week.