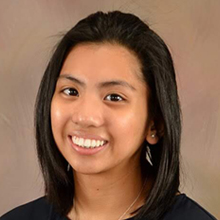 "All the friends I made at YYGS were incredibly accomplished and compassionate human beings. They inspired me with their stories of starting nonprofits to provide medical care for the less fortunate in Queens, launching regional strikes in Canada similar to the climate strikes , and doing groundbreaking research with leaders in different fields–but they were all humble and similar to me in that we all wanted to absorb all the information that we could during our time at YYGS and make lasting memories."
As a first-generation Filipino American, I have been fortunate to visit the Philippines during my summer breaks and have seen that basic needs such as food, education, and access to health care (which we take for granted here in the US) are not readily available. Having also seen my dad struggle with polio, I understand the importance of vaccines. This is why I founded Give It a Shot with the goal of raising funds to give free Pneumococcal (Prevnar 13) vaccines to daycare children in the Philippines, since pneumonia is the leading cause of childhood mortality. In addition, the Pneumococcal vaccine is not readily available to the population due to the high cost.
During the course of my freshman year (2016-2017), I was able to raise $8,000, enough to vaccinate 100 daycare children in the Philippines. I coordinated with a local pediatrician located in the province of Antipolo Rizal to use their facility to ensure that the cold chain for vaccine transport and storage was maintained. Coordination with local health officials from the province of Antipolo Rizal was also managed for vaccine information dissemination and for obtaining parental consent.
Following the success of the program in the summer of 2017, enough funds were raised during the 2017-2018 school-year to provide vaccines for 200 children for the summer of 2018. This past August, after attending YYGS BBS, I made my annual trip to the Philippines and provided pneumococcal vaccines (Prevnar-13) to 250 daycare children with the youngest child being four months old. Throughout the 2018-2019 school year, $15,000 was raised. This year, the vaccination day was held at Barangay Cupang, Antipolo Rizal. There were a total of six physician volunteers, two Department of Health nurses, numerous medical assistants, and local government volunteers to facilitate patient registration, obtain parental consent, maintain the vaccine cold chain and administer the vaccine.
I'm grateful to all those who have helped spread information about Give It a Shot, especially my school, Academy of the Holy Angels and New Jersey Catholic magazine for writing the June 2019 cover story about Give It a Shot and my selection as NJ's top high school volunteer and the NJ state honoree in the 2019 Prudential Spirit of Community Awards. I hope sharing my story with the YYGS community will inspire my peers to keep giving back to their communities!