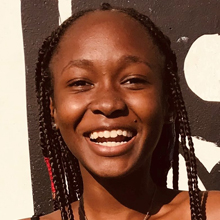 "I was delivered the ultimate university experience as I was driven to adapt to a demanding schedule and develop a sense of independency. YYGS not only fed my intellectual curiosity and opened my mind to the many careers available in STEM, but also allowed me to develop life-long friendships with a rather diverse group of teenagers and become more prepared for the college journey ahead of me."
In the wake of my grandmother's death in 2018, my family decided that it would be best to honor her spirit by remembering her compassionate nature, keeping her essence alive for years to come. Mama was known throughout the community for her kind heart and welcoming presence, a mother to all who needed one. Losing her had a considerable impact on not only our family, but the entire community. Hence, the I Remember Mama Foundation was born. This foundation is a family-run initiative that extends from the community where most of my extended family was raised, to the diaspora where some of my relatives reside (like New York). We offer a variety of charitable services - from providing food and clothing for the mentally ill, to having Christmas gift drives for the less fortunate or homeless. 
In playing my part as a member of the foundation and encouraging the spirit of giving back, I decided to tackle one of the most prominent issues in the community – educational disadvantages. Though majority of the schools in my area are public schools, most of the textbooks have to be bought, especially for high school students (7th -13th grade). However, these books are often very expensive and have a considerable financial impact on some families, even though they are only used for a year or term. While some families may not be able to obtain these books, I noticed that we had a cupboard full of them, acquired over generations  and collecting dust. So, after recognizing this challenge, I enlisted the help of my mother and aunts to collect all the textbooks that my siblings, cousins and I have used over the past years, as well as donations from others in the community.
After this initial phase, I am proud to announce that our Labour for Learning Book Drive is currently in its launching phase. We will be loaning books to less fortunate students in the community, for however long they may need it, in hopes of helping to further their education while lessening the financial burden on their families. Through this venture, I hope to bridge the gap between social classes and help to provide equal educational opportunities for the less fortunate. For now, this initiative is solely for highschoolers; but, stay tuned to learn about the weekend Reading and Homework Centre being considered for kindergarteners and primary/prep schoolers.