Yale Young Global Scholars Announces Young Leaders Scholarship for Refugees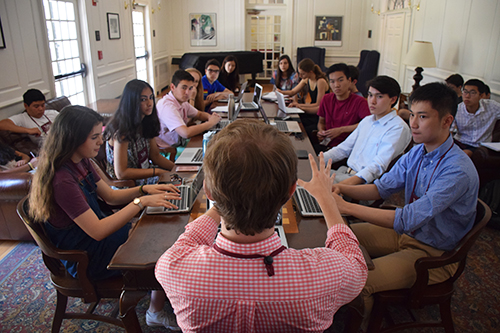 Yale Young Global Scholars (YYGS) is excited to announce a brand-new scholarship that covers 100% of program fees and travel costs for refugees admitted to YYGS in summer 2018. Through its commitment to remove barriers to educational opportunities for high achieving students from all backgrounds, and thanks to generous donor support, YYGS is proud to offer this scholarship opportunity to refugees. The scholarships will be awarded to admitted students in financial need who identify as refugees.
YYGS is a summer enrichment program that brings together talented high school students from around the world for a two-week academic experience at Yale University or Yale Center Beijing. The program offers seven unique interdisciplinary sessions featuring Yale University faculty focused on areas ranging from international security to biomedical engineering. Students will have the opportunity to make lasting connections with like-minded peers from all over the world, in addition to engaging in "YYGS family time," where students are paired with a mentor from the instructional staff to form a tight-knit network within the larger YYGS community. Many students keep in touch with their mentors and family members long past the program's conclusion.
"It is the students that make YYGS truly 'global,'" Director Erin Schutte Wadzinski said. "YYGS aims to foster a community that is inclusive and welcoming, in which we celebrate diversity and learn from each other's unique cultures and backgrounds." Marios (IAS '17), who received a full scholarship to attend YYGS last summer, stated, "I couldn't have asked for a more insightful, enriching, and thought-provoking summer. I flourished as both a scholar as well as a workmate during my time in New Haven and I'm beyond thankful for the opportunities I was provided with."
In order to be eligible for this scholarship, refugee students must meet YYGS general eligibility requirements [1] in addition to completing the financial aid portion of the online application [2]. YYGS follows the same definition of "refugee" as The UN Refugee Agency: "A refugee is someone who has been forced to flee his or her country because of persecution, war, or violence. A refugee has a well-founded fear of persecution for reasons of race, religion, nationality, political opinion or membership in a particular social group." On the Financial Aid section of the online application, students should indicate that they are refugees and provide a brief written statement explaining their current situation. YYGS highly encourages all students, regardless of their ethnic and socioeconomic background, to apply for this transformational educational opportunity.