YYGS Alumni Network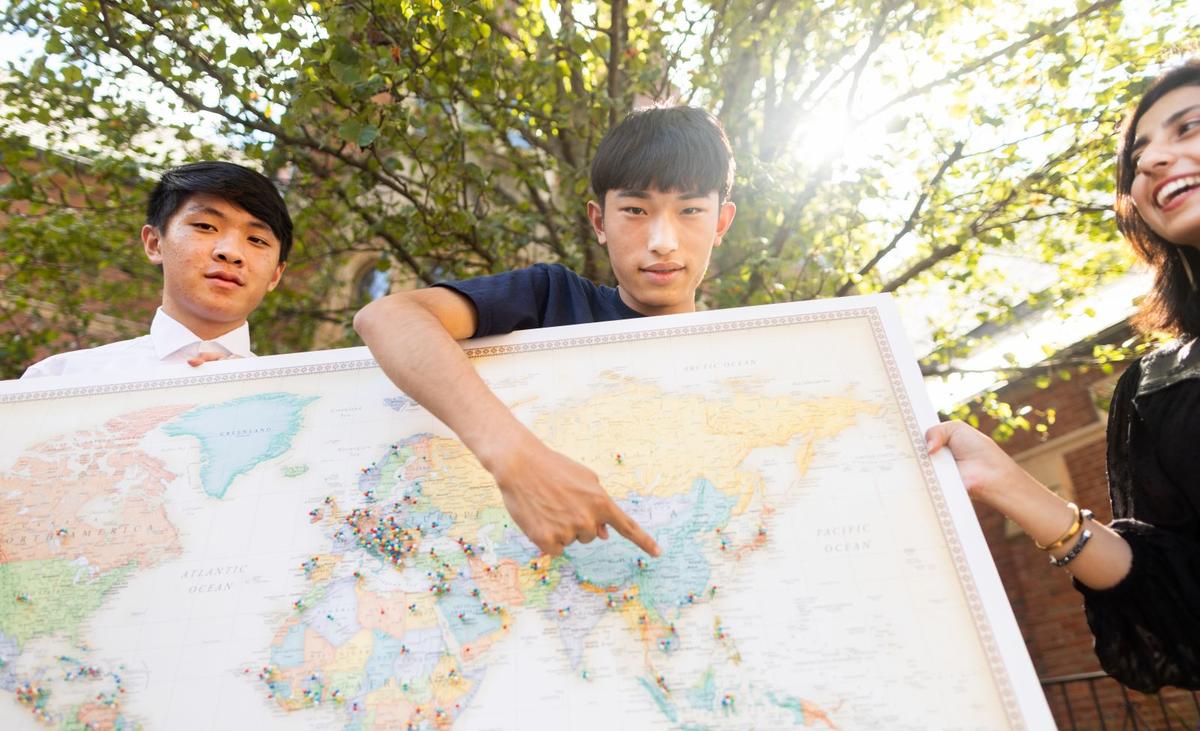 Stay in Touch:
We love to hear from our alumni and share news of their initiatives on social media and our bi-annual alumni newsletter. If you are an alumnus/a and would like to be featured, please submit the Share Your Story Form. 
Become an Alumni Ambassador:
Alumni ambassadors help spread word of YYGS to their peers and community. We also select ambassadors to participate in social media takeovers, provide quotes for news publications, assist leadership staff during country visits, and much more!
Approved ambassadors will receive an electronic certificate indicating their advanced role with YYGS. You can include this certificate on your résumé or university applications. 
To qualify, YYGS alumni must submit an ambassador application, which requires students to host an information session and submit details for a webpage feature.
Past Ambassadors
2016 Ambassadors

Grace Baghdadi '16
France
Blog Post, Video, Information Session


Abdul Moiz '16
Pakistan
Blog Post, YYGS Guidebook


Marcelo Piccoloto '16
Brazil
Five information sessions, Flyers, Video
 


Arianna De Petris '16
Italy
Information Session, FB Album, Flyers, Video

Anushka Gupta YYGS-Singapore '16
Information Session, FB Album, Article, Video


David Vijatovic '16
Serbia
Flyers, Article for local newspaper, Information Session

Nicole To '16
Australia
Blog Post, School newspaper article, Video for information session


Mulham Najajreh '16
Palestine
Information Session, Flyers, Social Media

Matus Kopunec '16
Slovakia
Information Session, Flyers, FB Album

 


Hannah Shanley 
YYGS-Singapore '16
PA, USA
Information Session, Flyers, Video


Mayukh Ghosh '16
India
Information Session, Flyers, Social Media


Zimeng (Lily) Liu '15 and '16
China
Information Session at school and YCB, 2016 Director of the Humans of YYGS page, FB Album


Aya Somai '16
Tunisia
Information Session, Social Media, Blog Post


Brigham McKee '16
MA, USA
Information Session, FB Album, Flyers


Angie Luo '16
Canada
Information Session, Blog Post, Social Media

Se Hyeon Park '16
NJ, USA
Information Session, Blog Post, Flyers

Nikolaos Kipouros '16
Greece
Information Session, Article in school magazine, Social Media


Olivia Steigbigel '16
CT, USA
Information Session, Flyers, Video

David Guzman '16
Mexico
Information Session, FB Album, Flyers


Rodrigo Guerra '16
TX, USA
Information Session, Video, Flyers, Social Media

Vivian Chiang '16
CA, USA
Information Session, FB album, Flyers, Video


Nuhamin Tekle '16
Ethiopia
Information Session, Blog Post, Flyers

 Hayk Arabyan '16 
Armenia Information Session, Blog Post, Article


Phyllis Mugadza '16
Zimbabwe
Information Session, Application workshop, Flyers, Video

Salim Roland '16 US / Ghana Information Session, Video, Social Media 

Katie Joyce '16 Canada Information Session, Flyers, Social Media

Nero Dotson '16 
CA, USA Information Session, Flyers, Social Media, Blog Post

Ruby Craven '16
Australia/UK
Information Session, Video, Social Media

Michelle Whitlock '16
VA, US
Information Session, Social Media, Flyers


Nadera Herbert-Bey '16
Georgia, US
Information Session, Social Media, Flyers

Saloni More YYGS-Beijing '16
Thailand
Article, Video, Contacts

Adrienne Coslick '16
Connecticut, USA
FB Album, Blog Post, Flyers

Felipe Broza '16
Brazil
Information Session, Video

Silvia Filová '16
Slovakia
Information Session, Video, Social Media, Flyers

Gariy Odhiambo Jr. '16 – Kenya
Information Session, Blog Post, Article, Goodwall Accomplishment
2015 Ambassadors

Calista Dominy '14
PA, USA
Blog, YYGS FB album, Flyers


Anna Chulack '15
London, UK
Video, Info Session
 


Sophia Wakeling '15
Australia
YYGS FB album
News


Eric Tsai '15
Guangzhou, China
Co-Head of YYGS Alumni Network in China
 


Sophia Peng '15
Beijing, China
Co-Head of YYGS Alumni Network in China
 


Yuancong Xie '15
Beijing, China
Article


Jasmin Lee '15
New York, USA
Reflection video
Tribute video


Sara Kljajic
Serbia
Blog
Info session, social media

 


Kelsey Thomas '15
Nebraska, USA
Article, Social media, flyers
 


Ananya Singh '15
India
Article, Info session, social media, flyers

Safia Southey '15
New York, USA
YYGS FB album

Ingrid Pan '15
California, USA
Article, Video Tribute, FB album, Flyers

Yinuo Zhang '15
Beijing, China
FB album, Blog Post, Video


Ben Rhee '15
New York, USA
Blog, Flyers, Social Media


Shlesha Ajay Van '15
Ghana
3 Info sessions, YYGS Mentoring, Flyers


Victor Padilla '15
Guatemala
Info Session, Social Media, Emailing
 


Varun Jain '15
Singapore
Flyers, Social Media, Info Session
 


Thea Rosenberg '15
Norway
Blog Post, FB Album, Flyers


Molly McCammon '15
Washington, USA
Video, Info Session, Blog Post


Mahder Takele Teshome '15
Ethiopia
Info Session, Article, Flyers


Abdoul Aziz Sandotin Coulibaly '15
Cote D'Ivoire
Video, Info Session,
Article, Flyers
 

Calandra Matoushaya '15
Zimbabwe
Blog Post, Info Session, Flyers


Jordan Pilant '15
Florida, USA
Article in school paper, Social Media, Contact names
 


Gevorg Khandamiryan '15
Armenia
Information Session, Social Media, Blog Post
 


Samuel Lin '15
California, USA
Information Session, FB Album, Social Media

Alexander De Jesus '15
Massachusetts, USA
Information Sessions, Flyers, FB Album
 


Anna Gleason '15
Connecticut, USA
Information Session, Flyers, Blog Post
 


Arpit Kalla '15
India
Video, Information Session, Social Media
 


Fanny Wahlberg '15 Sweden
Information Session, Flyers, Social Media
 

Nathaniel Steenhuis '15
Hungary
Information Session, Flyers, FB Album
 

Lindsay Meyerson '15
Connecticut, USA
Video, Blog Post, Flyers
 


Gibson Munene '15
Kenya
Article, Information Session, Flyers

Jihyun Celine Kim '15
South Korea
Flyers, Information Session, Social Media
 

 
2014 Ambassadors

Viktor Evtimov '14
Bulgaria 
Video

Danielle Stephenson '14

Guam, USA


Marisela Neff '14
New York, USA
Video

Muhammad Rafay Ahmad '14
Pakistan
Video

Bernice Delos Reyes '14
Manila, Philippines
Video

Jessica Yilei Han

'14
Shanghai, China


Shannon Hong '14
California, USA
Video


Soramon Chaichan '14
Nakhon Ratchasima Province, Thailand
Video

Jessica Zhang '14

Sydney, Australia
Video


Tyler Kee '14
Arkansas, USA
Video

 
2013 Ambassadors

Nitisha Baronia '13
California, USA
Video


Ju Chao '13
Chengdu, China
Video


Sophie Davidson '13
London, UK
Video


Christopher D'Urso '13
New Jersey, USA
Video


Akhila Roy Chowdhury '13
Bangalore, India

Alex Pont '13
Barcelona, Spain
Video


Sky Swanson '13
London, UK


Julian Adler '13
New York, USA
Video

Matthew Parodi '13
Kansas, USA

Deanna Ford '13
New York, USA

 

 
[/accordion]