Sustainable Development & Social Entrepreneurship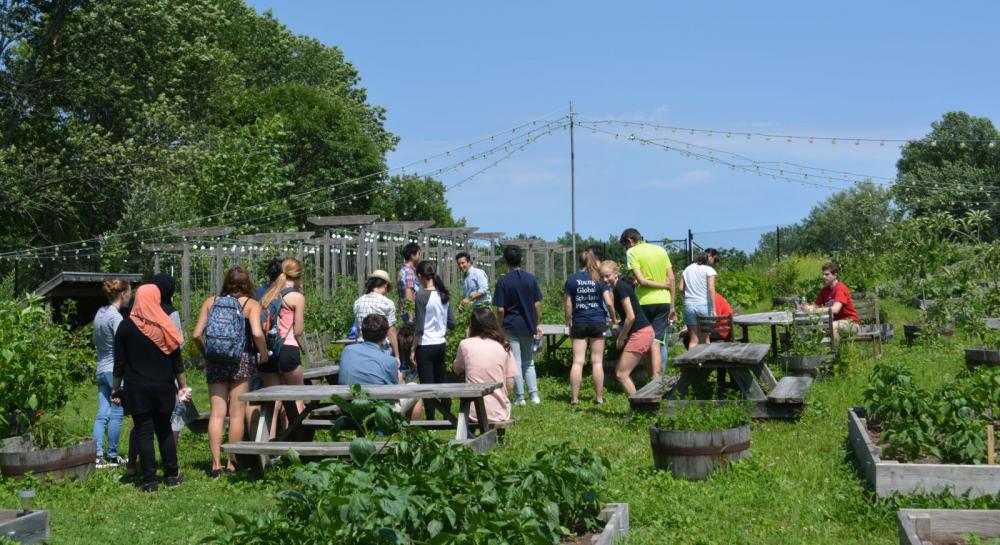 Dates: July 8 - July 21, 2018
The Sustainable Development & Social Entrepreneurship (SDSE) session of the Yale Young Global Scholars Program is focused on exploring innovative solutions to the greatest challenges facing the international community today, and aims to prepare students to tackle problems related to particular areas of interest, including global health, international development, environmental sustainability, and gender equality.
Students are immersed in the interdisciplinary study and active problem solving of issues identified in the United Nations' Sustainable Development Goals, tackling topics from poverty alleviation to human rights to environmental protection to health and well-being. In the SDSE session, students develop the practical and adaptive tools of an entrepreneur to propose innovative solutions to a wide array of contemporary social, economic, and environmental problems.
If you are intrigued by any of the following (or related) questions, SDSE may be the right fit for you:
What are the most effective poverty alleviation strategies and how do we implement them?
How can we design sustainable cities?
What is microfinance and how does it work?
What humanitarian intervention strategies effectively address peacebuilding objectives?
How is access to education and public health interrelated?
How do we balance environmental protections with economic development?
---
Excerpt from YYGS student blog:
"The multitude of experiences represented by the participants were incredible. Every story was fascinating, revealing the lifestyles and cultures of young people around the word. However, when we shared our unique perspectives what struck me most was how interconnected we all were. I have never visited the Democratic Republic of Congo or studied Chinese, but our stories all contained a common goal: the desire to make positive change in our world. For some, that meant preserving the local flora and fauna of their backyards while others were intent on saving polar bears thousands of miles away. Even though our passions differed, everyone projected energy as a global citizen in terms of recognizing the interrelationships that each issue and challenge posed. In light of these shared core values, we were more alike than different from each other." - Clarisa, USA
Read more about SDSE straight from the blog >>
SDSE Programming Elements:
The YYGS program emphasizes an open, exploratory, and collaborative approach to learning. The curriculum helps develop analytical thinking, intellectual flexibility, written and oral communication, and teamwork skills.
Lectures. YYGS features lectures by renowned Yale faculty and leading practitioners in their fields. Lectures are intended to expose students to a wide array of new ideas, perspectives, and exciting new research, as well as challenge them with first-year university level material. Past YYGS lectures have included:

"Development and Economics of Poverty Alleviation," by Dr. Dean Karlan, PhD, Professor of Economics at Yale University
"Climate Justice and Indigenous Peoples: Struggles for Recognition, Justice, and Land Rights," by Dr. Amity Doolittle, PhD, Research Scientist in and Senior Lecturer in Forestry and Environmental Studies at the Yale School of Forestry and Environmental Studies
"Against Empathy," by Dr. Paul Bloom, PhD, Brooks and Suzanne Ragen Professor of Psychology and Cognitive Science at Yale University

Breakout Session. Following the lectures, instructional staff lead smaller breakout sessions (typically 10-15 students) to further explore topics related to the content of the lectures. Breakout sessions give students a more individualized opportunity to delve deeply into the topic introduced by the lecturer. Undergraduate and graduate student instructional staff facilitate conversations on the day's lecture, and students are expected to voice their opinions, formulate thoughtful questions and responses, debate varied perspectives, and consider possible follow-up experiments.
Seminars. Seminars are interdisciplinary standalone classes (typically 10-15 students each) that are designed and taught by undergraduate and graduate student instructional staff, with assigned readings made available to YYGS participants prior to their arrival at the program. Students give their preferences for seminars in advance, and are expected to come having closely read and analyzed the assigned material. Past seminars have included:

"Subjectivity in Science? Crafting Environmental Policy When You Have Conflicting Data, Evidence, and Stakeholders," by Chelsea Judy, Graduate Student, Forestry and Environmental Studies
"A Seat at the Table: Understanding Systems of Power in Sustainable Development," by Karnessia Georgetown, Undergraduate Student, Sociology and Education Studies
"Beyond Countries and Communities: Global Health and Well-Being," by Paige Baum, Graduate Student, Public Health, Epidemiology of Microbial Diseases
Capstone. Over the course of the two-week program, students will also work in Capstone project groups (4-5 students each) to identify problems in a specific topic, conduct rigorous background research, and propose impactful solutions to their peers and instructors. Assignments are designed to develop critical thinking skills and encourage innovation, as well as emphasize teambuilding, analytical problem solving, and communication in a group of diverse peers. This project culminates in a group presentation at the end of the session.
Simulations. Simulations are modeled on real-world events and provide opportunities for students to work in small groups to respond to evolving challenges, gain experience in crisis simulation and response, and design potential solutions to these events. Social science students gain insight into careers in policy-making, national security, international organizations, and both groups reflect on the challenges of effective leadership. Each student is assigned a role within the simulation universe through which they actively participate in and shape the simulation outcome, thereby facilitating hands-on learning.
YYGS Family Time. YYGS Family Time is a unique opportunity for students to meet and bond with a small group of 7-8 students, who are mentored by a YYGS instructional staff member throughout the two weeks of YYGS session. Families engage in icebreaker games, talk about the ups and downs of the program, and otherwise serve as surrogate "families." YYGS Family time is an important building block of community at YYGS.
Speaker Series. If desired, students can audition to give a short talk on a topic of their choosing. Selected speakers will deliver their talks to a combined audience of students and instructional staff in both sessions. In this way, students have the opportunity to speak in front of an audience of almost 500 people and share their ideas and passions! Talent Show. At the end of­ the session, YYGS hosts a talent show f­eaturing student participants. This is an excellent way ­for students to showcase their talents and cultural heritage.
Sample 2017 Schedule