Politics, Law & Economics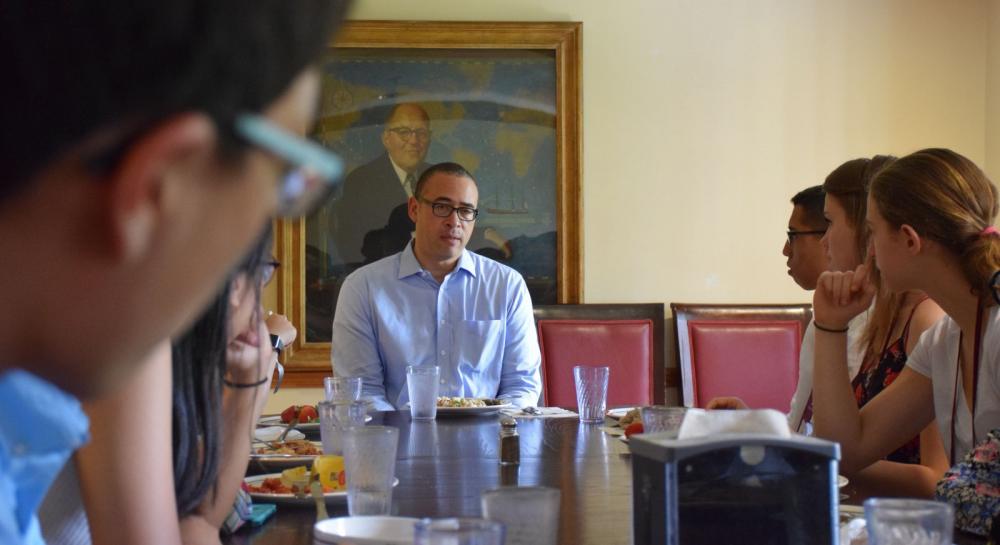 Dates: July 27 - August 9, 2018
The Politics, Law & Economics (PLE) session of the Yale Young Global Scholars Program is aimed at students with an interest in understanding economic theory, the values and practices of government, and legal frameworks in historical and comparative perspectives.  Students learn key ideas in topics such as public policy, human rights, market regulation, governance structures, and international law. The session enables students to examine social systems and present day issues through the lenses of economic, legal, and political theory.
If you are intrigued by any of the following (or related) questions, PLE may be the right fit for you:
What are the policy implications of changes in U.S. immigration law?
What is "game theory" and what are its lessons and limitations?
How can human rights-based approaches inform and shape law and policy decisions?
Should governments regulate markets? How do governments balance economic growth with workers' protections?
What is the relationship between the U.S. Supreme Court and Congress? How have key legal cases shaped contemporary U.S. political practice?
The Electoral College – what is it, how does it work, and where did it come from?
---
Excerpt from the YYGS PLE blog:
"Upon arriving at the Yale Young Global Scholars program, I hoped to learn more about politics and law so I can gain a better understanding of the geopolitical situation of the world. However, it was not until I heard professor Koh's lecture did I realize that I was hoping for the wrong things. In professor Koh's lecture, he talked about the true value of education - using it as a tool to find our own worldview and values. That was a BLING moment from me! Never did I truly realize that the excellence of Yale lies in its deep wish to educate its students so that they discover the meaning of their lives rather than simply feeding students with endless information and asking them to sit in lecture rooms. At Yale Young Global Scholars, I became a better thinker." – Shelly, China
Programmatic Elements:
The YYGS program emphasizes an open, exploratory, and collaborative approach to learning. The curriculum helps develop analytical thinking, intellectual flexibility, written and oral communication, and teamwork skills.
Lectures. YYGS features lectures by renowned Yale faculty and leading practitioners in their fields. Lectures are intended to expose students to a wide array of new ideas, perspectives, and exciting new research, as well as challenge them with first-year university level material. Past YYGS lectures have included:

"Paris Climate Change Agreement: From Breakdown to Breakthrough," by Professor Daniel Esty, J.D., Hillhouse Professor of Environmental Law and Policy, Yale School of Forestry and Environmental Studies; and Clinical Professor of Environmental Law and Policy, Yale Law School
"The Trump Administration and International Law," by Professor Harold Koh, J.D., Sterling Professor of International Law; Former Dean of Yale Law School; Former Legal Advisor of the U.S. Department of State
"Cybersecurity, Cyberwarfare, and International Relations," by Professor Edward Wittenstein, J.D., Executive Director of YYGS; Lecturer, Jackson Institute for Global Affairs; Executive Director, Johnson Center for the Study of American Diplomacy
Breakout Session. Following the lectures, instructional staff lead smaller breakout sessions (typically 10-15 students) to further explore topics related to the content of the lectures. Breakout sessions give students a more individualized opportunity to delve deeply into the topic introduced by the lecturer. Undergraduate and graduate student instructional staff facilitate conversations on the day's lecture, and students are expected to voice their opinions, formulate thoughtful questions and responses, debate varied perspectives, and consider possible follow-up experiments.
Seminars. Seminars are interdisciplinary standalone classes (typically 10-15 students each) that are designed and taught by undergraduate and graduate student instructional staff, with assigned readings made available to YYGS participants prior to their arrival at the program. Students give their preferences for seminars in advance, and are expected to come having closely read and analyzed the assigned material. Past seminars have included:

"Policy Workshop: Understanding and Tackling Gender Disparities in the Workforce," by Analia Cuevas-Ferreras, Recent Graduate in Political Science
"Privilege, Inequality and the Right," by Patrick Barker, Graduate Student in History
"Law's Use of Facts in a "Post-Factual" World," by Yuvraj Joshi, Recent Graduate from the Yale Law School
Capstone. Over the course of the two-week program, students will also work in Capstone project groups (4-5 students each) to identify problems in a specific topic, conduct rigorous background research, and propose impactful solutions to their peers and instructors. Assignments are designed to develop critical thinking skills and encourage innovation, as well as emphasize teambuilding, analytical problem solving, and communication in a group of diverse peers. This project culminates in a group presentation at the end of the session.
Simulations. Simulations are modeled on real-world events and provide opportunities for students to work in small groups to respond to evolving challenges, gain experience in crisis simulation and response, and design potential solutions to these events. Social science students gain insight into careers in policy-making, national security, international organizations, and both groups reflect on the challenges of effective leadership. Each student is assigned a role within the simulation universe through which they actively participate in and shape the simulation outcome, thereby facilitating hands-on learning.
YYGS Family Time. YYGS Family Time is a unique opportunity for students to meet and bond with a small group of 7-8 students, who are mentored by a YYGS instructional staff member throughout the two weeks of YYGS session. Families engage in icebreaker games, talk about the ups and downs of the program, and otherwise serve as surrogate "families." YYGS Family time is an important building block of community at YYGS.
Speaker Series. If desired, students can audition to give a short talk on a topic of their choosing. Selected speakers will deliver their talks to a combined audience of students and instructional staff in both sessions. In this way, students have the opportunity to speak in front of an audience of almost 500 people and share their ideas and passions! Talent Show. At the end of­ the session, YYGS hosts a talent show f­eaturing student participants. This is an excellent way ­for students to showcase their talents and cultural heritage.
Sample 2017 Schedule