Alumna Creates Comic Book to Showcase YYGS Experience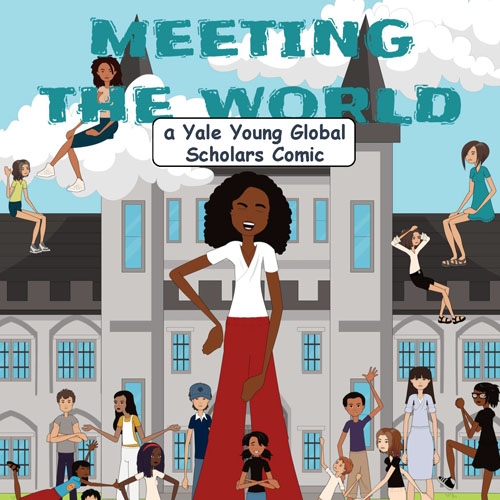 Shaina Gabala is a Yale Young Global Scholars (YYGS) alumna who is passionate about art. Her YYGS experience inspired her to create a comic book illustrating her memories during the program.
Because of her parents' career, Shaina had to move to different countries, schools, and educational systems throughout her life. By age 15, she had lived in five countries and attended seven different schools. "But throughout all those experiences," she says, "one constant remain[ed]: Art."
For as long as she can remember, Shaina has been painting, drawing, and starting comics which she never finished. Out of these, painting has remained her core artistic activity, but she also engages in digital design; friends and family often hire her to design flyers and promotional material for various events.
Shaina made her first comic during her junior year in high school, while working on a scientific research project. Wondering how she could present her research conclusions in a way that could be easily accessible to everyone, she decided to present her ideas in comic book format.
"When you draw, you can use gestures, poses and facial expressions; the message is clear even with very few words," explains Shaina. "My entire family read the comic and I could see that even my 8-year-old brother was as captivated as my 70-year-old grandmother or my teenage cousins. Everybody can easily relate to a comic."
Hungry to follow her passions and learn more about science, Shaina applied and was accepted to the 2018 Frontiers of Science and Technology (FST) session at YYGS.
During the program, Shaina joined the YYGS Communications Team, a group of students tasked with capturing and documenting the YYGS student experience. Encouraged by her team leader, she decided to write and illustrate a comic about her experiences before, during, and after the program. She started writing the comic two weeks after returning home to Abidjan (the Ivory Coast).
"It was an excellent way for me to reflect on the experience and all the benefits I gained from it," says Shaina. "The comic was a true testament of how much I had enjoyed my time at the YYGS program."
The title of Shaina's comic, "Meeting the World," is an apt description of her experience at YYGS. "YYGS allowed me to meet multiple 'worlds': students from so many different countries, a new world of learning experiences, [and] my 'internal world,' by challenging myself to dance at the talent show and becoming more extroverted," she says.
In college, Shaina plans to pursue her two passions, engineering and art, simultaneously. Ultimately, it is her goal to make science more accessible and understandable through artistic illustrations.
View Shaina's YYGS comic book here: YYGS Comic by Shaina Gabala (Alumna '18) [1]