YYGS Alumnus Founds Organization to Support Jordanian Youth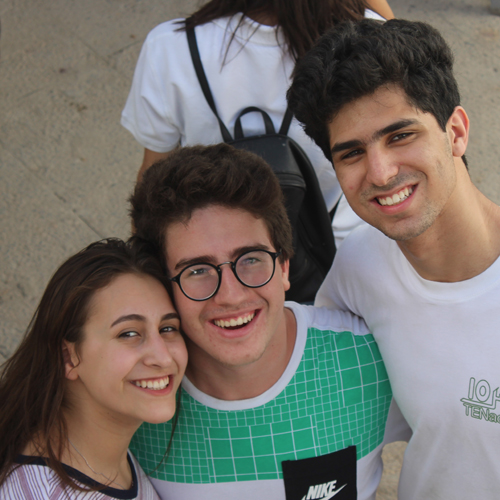 Nadim Billeh is a Yale Young Global Scholars (YYGS) alumnus who is passionate about helping others and empowering his community. Nadim utilized the skills he learned through YYGS to co-found the Jordan Youth Leadership Program (JYLP) alongside two peers, Abdulrahman Al-Ali and Hani Al-Yacoub. JYLP gives Jordanian youth the opportunity to improve their leadership skills by contributing to service projects in their community.
 
After attending the 2017 YYGS Biological and Biomedical Sciences (BBS) session, Nadim returned to Jordan with the takeaway that youth are capable of changing the world. The YYGS Capstone presentations, in specific, are what left the biggest impact on Nadim. During this research assignment, Nadim was inspired by the various initiatives of students from all over the world, and he learned how to extrapolate this knowledge and apply it to real world situations. The combination of these two factors propelled Nadim to fully believe that he, too, could be an agent of change in his own community.
"If youth are able to propose strong and plausible solutions, the second step would be to implement them. The hard work and energy of the [Capstone participants] … [helped me see] the potential of the world's future leaders, who can help alleviate the problems of the world. It was of ultimate necessity of me to help in any way, by spreading this influence to the youth of Jordan."
The goal of the Jordan Youth Leadership Program is to become a hub for youth-led projects to help underprivileged communities in Jordan. The program encourages hands-on experience and helps youth put their ideas and initiatives into action. Nadim hopes that the program will allow participants to develop leadership skills through experience, ultimately helping them to become agents of change capable of making a difference in their societies.
JYLP youth engage in a variety of different leadership and service projects. Past projects have included gathering orphans and underprivileged children in the community and providing meals and entertainment for them, delivering food packages with Medical Relief International, creating an entrepreneurial conference in the Gaza Refugee Camp of Jerash, and organizing a fundraising project to buy winter jackets for underprivileged students.
"With JYLP, I saw how there is no way to realize warmth if we do not know the cold. JYLP reassured me that the smallest smiles have the potency to combat injustice," says Nadim.
Since its inception, JYLP has grown in just three months to influence around 400 youth in Amman-Jordan, which Nadim says is the "greatest achievement and highlight of [his] life." Nadim says that JYLP instilled in him a passion to help others and taught him that with the necessary passion, determination, and grit, nothing is impossible.
"YYGS allowed me to transform not only as a scholar, but also as a human. I continue the chain of influence as I help other people by allowing them to have the same life-changing influence," says Nadim. "YYGS is responsible for a global chain of influence that is transforming youth all around the world."
As JYLP continues to impact the leaders of tomorrow, Nadim hopes that these leaders will continue this chain of influence to spread "strength and faith" amongst all the Jordanian youth. Ultimately, it is his goal that the principles of JYLP can also impact future generations of youth around the world.
 
Learn more about JYLP and their work here: 
Instagram: @jylp2018 [1]
Videos of Main Projects: