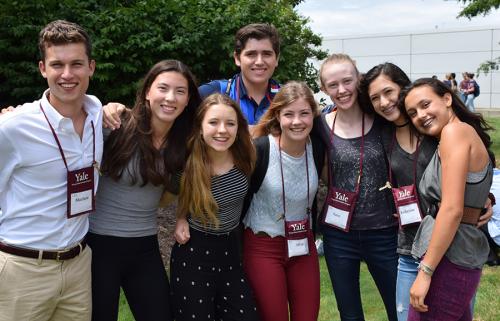 Yale Young Global Scholars (YYGS) and Goodwall have entered an exciting partnership to host the YYGS Alumni Network, which includes alumni ambassadors, on Goodwall. YYGS is a summer academic enrichment and leadership program that brings together outstanding high school students from around the world for intensive two-week sessions on the Yale campus.
Goodwall shares the YYGS mission, which is to empower the next generation of global leaders. Goodwall is an app and social network for teens to create their first professional online profile and showcase their proudest academic and extracurricular achievements. With a very active and engaged user base reaching 1 million users in over 150 countries, Goodwall enables students to discover unique learning experiences and connect with fellow students who share similar passions. 
Launching March 2017, the YYGS-Goodwall partnership has three main objectives:
1.    To bring together students who participated in YYGS programs and build a strong online community of YYGS alumni
2.    To consolidate the YYGS Alumni Ambassador program by recognizing ambassador work and providing them with a platform to interact and exchange experiences
3.    To promote YYGS programs to high achieving students from around the world on Goodwall
After completing their YYGS program, alumni will showcase their experience on Goodwall and interact with previous YYGS participants through a dedicated group channel.
Alumni who complete provided tasks that promote YYGS to their friends, classmates, and others in their local community will also have the opportunity to become YYGS Alumni Ambassadors and join a tight knit community to share best practices and keep up to date with YYGS news.
By promoting YYGS alumni experiences, other high achieving students on Goodwall will also have the opportunity to discover and apply to YYGS, thus aiding in building the next generation of alumni and future ambassadors.
This partnership will build a strong online community where students can share experiences, meet like-minded high achieving students, and discover new enriching opportunities to grow and develop as future global leaders.
---
Join the community and sign up for Goodwall today!
If interested in becoming an alumni ambassador, please refer to our alumni ambassador form.