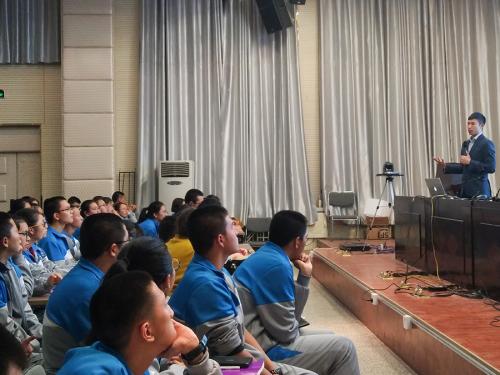 On October 21, Yale Young Global Scholars (YYGS) Asia Program Manager, Timothy Liu, joined the Yale Center Beijing and held an information session about YYGS (a Chinese recording of the information session can be found at http://t.cn/ROCoJLb). After the information session in Beijing, Tim traveled to schools across China to continue spreading the word about YYGS. Here are the most commonly asked questions Tim received during his trip:
---
Q: Which schools did you end up visiting? How did you decide which schools to visit?
A: In the two weeks after the information session in Beijing, I visited 11 schools in Hebei, Hunan, Anhui, Zhejiang, Shanghai, Jiangsu, and Xinjiang. This year was the first time that YYGS did any school visits in China, and we really wanted to focus on introducing YYGS to schools and students who might not have heard about it before - 7 of the 11 schools I visited have never had a student attend YYGS.
---
Q: Was there one main message that you wanted to get across to students?
A: I think that the most important takeaway was that students should not let the program costs deter them from applying to YYGS. YYGS wants to bring the most talented students to our program, regardless of their financial situation, and we have financial aid and scholarships available for students whose families might have trouble paying the full tuition. Students in need who are interested in the Asia in the 21st Century session at Yale Center Beijing should make sure to apply for financial aid, because we have 15 full-tuition YYGS-Arconic Scholarships available for Chinese students to attend that session in 2018.
---
Q: Are there any major differences between the YYGS session in Beijing and the sessions at Yale University in New Haven?
A: All YYGS sessions offer the same high-quality programming and contain the same core program components. The main difference between sessions is the session theme, which will determine the content of the academic curriculum of each session. The Asia in the 21st Century session in Beijing is unique because participants get to explore one of the most important cities in Asia as they learn about the region. Chinese participants have the opportunity to understand how students from different countries think about China and its changing role in the world. It's also important to note that only 90 students will attend the session in Beijing, compared to over 200 in each of our New Haven sessions. This smaller session size leads to a more tight-knit community among both students and instructors – you really do get to know everyone in the Beijing session!
---
Q: What were some of the most common questions you received during the information sessions?
A: Many students wanted to know what part of the application is the most important. However, this is a very difficult question to answer because we take a holistic approach to evaluating our applicants. I would encourage students to focus on making sure their essays tell us something about themselves that we cannot easily see from the rest of the application. A related question I received a lot was about the importance of submitting standardized test scores, which are an optional part of the application. We do suggest that students who have taken an English proficiency test (TOEFL, IELTS, etc.) submit their score. Other standardized tests (SAT, ACT, etc.) should be submitted if students feel proud about the score, but students who do not submit any standardized test scores will not be penalized in any way.