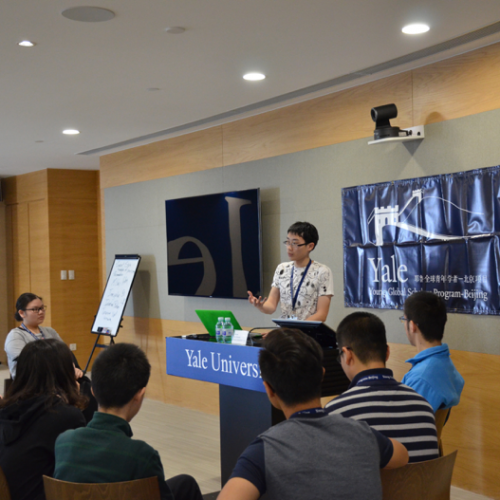 The Yale Young Global Scholars Program (YYGS) is excited to announce a new summer session in 2018 at Yale Center Beijing in China!
The two-week session in Beijing will offer interdisciplinary programming focused on "Asia in the 21st Century." Hosted and administered by Yale Center Beijing, the session is geared towards high school students interested in gaining a deeper understanding of the unique economic, development, and security challenges within the Asia region. Yale University serves as Yale Center Beijing's knowledge partner and provides education consulting services to Yale Center Beijing to design the Beijing program's unique content, inspired by YYGS's long-established and highly-regarded sessions on Yale's campus. In Beijing, participants have the opportunity to experience Yale's standard facilities while exploring one of the most culturally-vibrant and influential cities in the world. In addition to bringing some of Yale's most renowned professors to China, this session takes advantage of its location by inviting distinguished professionals with real-life experience to address speech on relevant, important issues. Participants also have the opportunity to visit significant cultural sites, such as the Great Wall and the Forbidden City. YYGS-Beijing is limited to 90 participants, making an intimate atmosphere for participants to interact and make connections with their session leaders and peers. This is the third year Yale Center Beijing has hosted a session in China, but the first time it is doing so during the summer.
In addition to the session at Yale Center Beijing, which will run from July 26 – August 8, the following sessions will take place on Yale's campus:
-       Applied Science & Engineering (ASE): June 17 – June 30
-       International Affairs & Security (IAS): June 17 – June 30
-       Frontiers of Science & Technology (FST): July 8 – July 21
-       Sustainable Development & Social Entrepreneurship (SDSE): July 8 – July 21
-       Biology & Biomedical Science (BBS): July 27 – August 9
-       Politics, Law & Economics (PLE): July 27 – August 9
While attending YYGS at Yale's campus, participants have the opportunity to experience the collegiate atmosphere by studying in Yale's lecture halls and classrooms, meeting and engaging with world-renowned professors, and residing in Yale's historic residential colleges. "Yale is committed to educating global leaders," said YYGS Executive Director Ted Wittenstein. "The Yale Young Global Scholars Program furthers this initiative by educating high school students from around the world. This is an excellent opportunity for bright young leaders to explore new and exciting ideas, hone their abilities to think critically and flexibly, and engage productively with a diverse group of peers. Students learn invaluable skills that are essential for their educational and career goals."
In all sessions, participants attend speeches by Yale faculty, as well as smaller seminars led by Yale undergraduate and graduate students. Over the course of the two-week program, participants also work in capstone project groups to identify a global problem facing the world today, conduct rigorous background research, and propose impactful solutions to their peers and session leaders. 
The online application for all seven sessions is available now. The application deadline is February 6, 2018 at 11:59 pm EST. Need-based financial aid is available, and students from all financial backgrounds are encouraged to apply.
For additional information, visit globalscholars.yale.edu or contact us here.