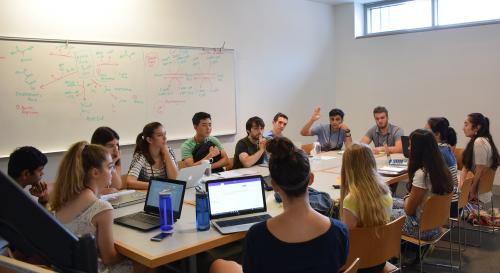 The 2017 application for the Yale Young Global Scholars Program (YYGS) is now available! YYGS is an academic enrichment and leadership development program that brings together outstanding high school students from around the world for intensive two-week sessions on the Yale campus. In 2016, YYGS hosted over 1,300 students from over 100 different countries.
"YYGS exemplified how young men and women from around the world can bring the world together in empathy and cooperation," said Leon Tsai, a 2016 YYGS Politics, Law, and Economics student. "As the next generation of leaders, we can step up and make the world a better place."
YYGS is excited to offer two new sessions in 2017. The Frontiers of Math & Science session (FMS) explores research on the forefront of the physical sciences and mathematics. Like the Applied Science & Engineering session and Biological & Biomedical Sciences session, FMS will feature tours of laboratory spaces at Yale, and offer unique learning experiences at the Yale Observatory and Yale's West Campus. Watch this video to learn more about YYGS sessions on science, technology, engineering, and math. Another new session – Sustainable Development & Social Entrepreneurship (SDSE) – empowers participants to explore innovative solutions to the world's greatest challenges facing our species and the planet.
"Building off the success of last year's expansion, we're excited to offer these two new sessions. Both of these sessions address topics that students have expressed widespread interest in exploring further," said Erin Schutte Wadzinski, Director of YYGS. YYGS will once again offer its Politics, Law & Economics session and International Affairs & Security session.
In all six sessions, students will attend lectures by Yale faculty, as well as smaller, more intimate seminars taught by Yale undergraduate and graduate students. Over the course of the two-week program, students will also work in Capstone project groups to identify problems in a specific topic, conduct rigorous background research, and propose impactful solutions to their peers and instructors. YYGS is a residential program hosted in one of Yale's twelve residential colleges. Students admitted into the highly-selective program get a taste of the Yale experience through the use of Yale libraries, classrooms, dining halls, and dorms.
Sessions and Dates for Summer 2017
Brief descriptions for each of the six sessions are listed below.
Frontiers of Math & Science (FMS): June 19 - July 2, 2017
In FMS, students examine scientific disciplines such as physics, chemistry, geology, astronomy, and mathematics. This session is designed for students looking to explore the convergence of interdisciplinary fields such as material science, biochemistry, biophysics, behavioral economics and environmental science.
Sustainable Development & Social Entrepreneurship (SDSE): June 19 - July 2, 2017
In SDSE, students develop the practical and adaptive tools of an entrepreneur to address contemporary social and economic problems. Students are immersed in the interdisciplinary study and active problem solving of issues involving economic development, poverty alleviation, human rights, and environmental protection.
Applied Science & Engineering (ASE): July 9 – July 22, 2017
In ASE, students explore interdisciplinary scientific applications ranging from the nanoscopic to the astronomical in scale. This session is designed for students who are interested in learning how to apply scientific and design principles to practical applications.
International Affairs & Security (IAS): July 9 – July 22, 2017
In IAS, students think strategically and negotiate potential responses to complex international dilemmas by drawing from a wide range of historical and contemporary issues. This session is designed for students interested in international relations and security studies to develop the skills needed to engage with an increasingly interconnected world.
Biological & Biomedical Science (BBS): July 27 – August 9, 2017
In BBS, students explore interdisciplinary scientific disciplines such as epidemiology, biochemistry, neuroscience, ecology, and systems biology. This session is for students who want to delve deeper into the study of the life sciences and their applications.
Politics, Law, & Economics (PLE): July 27 – August 9, 2017
In PLE, students learn key ideas in topics such as public policy, human rights, market regulation, governance structures, and international law. The session enables students to examine social systems and present day issues through the lenses of economic, legal, and political theory.
Application Launch
The comprehensive online application for all six sessions is available now and accessible through the program website. The application deadline is January 31, 2017 at 11:59 pm EST.
Need-based scholarships are available and students from all financial backgrounds are encouraged to apply. Last year, nearly 500 students received some form of financial assistance. YYGS does not provide travel to and from New Haven.
For additional information, visit globalscholars.yale.edu or contact us here.