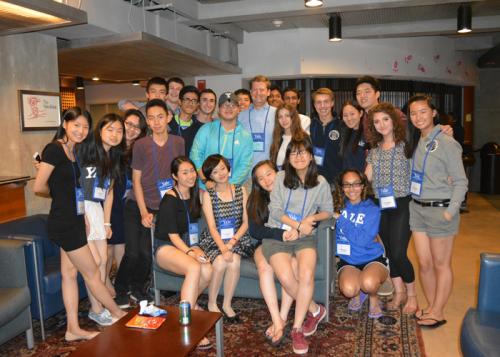 The Yale Young Global Scholars Program (YYGS) offers a truly global environment on the Yale University campus each summer for talented high school students. Through its competitive admissions process, the program brings together a diverse, distinguished, and unique pool of participants, allowing a mix of students with different backgrounds and perspectives from across the United States and around the world to enrich the minds of those who attend the program.  This year, YYGS looks forward to welcoming its cohort of 600 students to Yale's campus this summer – a cohort that is more diverse than ever before. 
As YYGS becomes increasingly global, the academic curriculum is adapting to fit the interests and goals of the participants. This summer, students will experience a few new aspects of the program.  In the Politics, Law, and Economics session (June 23-July 6), YYGS has collaborated with Yale's Sterling Memorial Library's Department of Manuscripts and Archives to offer students hands-on library sessions where they will examine and discuss key topics using Yale's remarkable collection of primary sources. Students with the International Affairs and Security session will find themselves participating in a fully immersive global crisis simulation, allowing them to put the knowledge gained in their studies to use as they seek to address a variety of realistic and constantly changing foreign policy scenarios.  Students from the Science, Policy, and Innovation Session will have the opportunity to tour Yale's scientific facilities, from state of the art labs to the Yale observatory, meeting professors and observing firsthand how such centers of scientific innovation operate. These opportunities will deepen the involvement of students with the program, and will allow them a great opportunity to utilize Yale's academic resources on campus.
Word about YYGS has spread across the globe with the help of schools, educational organizations, and especially through our active YYGS alumni ambassadors program. Applications for the program have increased by 38% since last year, with 2,172 applicants to the 2015 sessions.  The number of applications grew among domestic applicants as well as international applicants. In 2015, the admitted students coming from outside the United States represent 92 different countries, compared to 70 in 2014.  This statistic is one that speaks to the goals of YYGS: to bring together talented young minds from all over the world to collaborate and share ideas in a collegiate environment. And it's not just geographic diversity that is growing. In 2015, one-third of students received financial assistance from YYGS to attend the program, with 16% receiving a full-ride to attend YYGS at no cost.
A cross section of the diversity of the YYGS program can be seen in the distinguished group of young men and women who have been selected to receive Program Scholarships based on demonstrated need and academic excellence, which covers full tuition and travel to YYGS.  Many of these scholarships are made possible thanks to a supportive YYGS community of program friends and Yale alumni. All of the scholarship recipients display incredible talent in a variety of areas, and introducing each of them reveals the high caliber of the students involved in each YYGS program. 
The 2015 YYGS Scholarship Winners are…
Yuheng Zhang from the Sichuan Province of China has a passion for Architecture.  Yuheng is a dedicated student, excelling not only in her studies of advanced building techniques, but also in her understanding of architectural legacies from China's many minority groups. 
Daniel Soberanes from Jalisco, Mexico is not only a skilled and expressive writer, but also seeks to develop virtual reality technology to help those around him live a better life. 
Daniel Calarco Oliveira from Brazil seeks to battle social inequalities by learning about law and economics, and desires to help remove social injustice from his home of Rio de Janeiro. 
Onesmus Owokunda from Uganda dreams of being a politician to battle corruption and unfair treatment of rural villagers in his country. 
Mahder Takele Teshome from Ethiopia hopes to use her passion for the social sciences to aid entrepreneurs and businesspeople in their attempts to provide a better life for themselves.
Daniel Chol Deng from Kenya hopes to become a neurosurgeon to aid victims who have been adversely affected by conflict or natural disaster.
It is an honor to welcome these students and the rest of the distinguished participants to Yale University for the Yale Young Global Scholars Program.