YYGS-Beijing: Asia in the 21st Century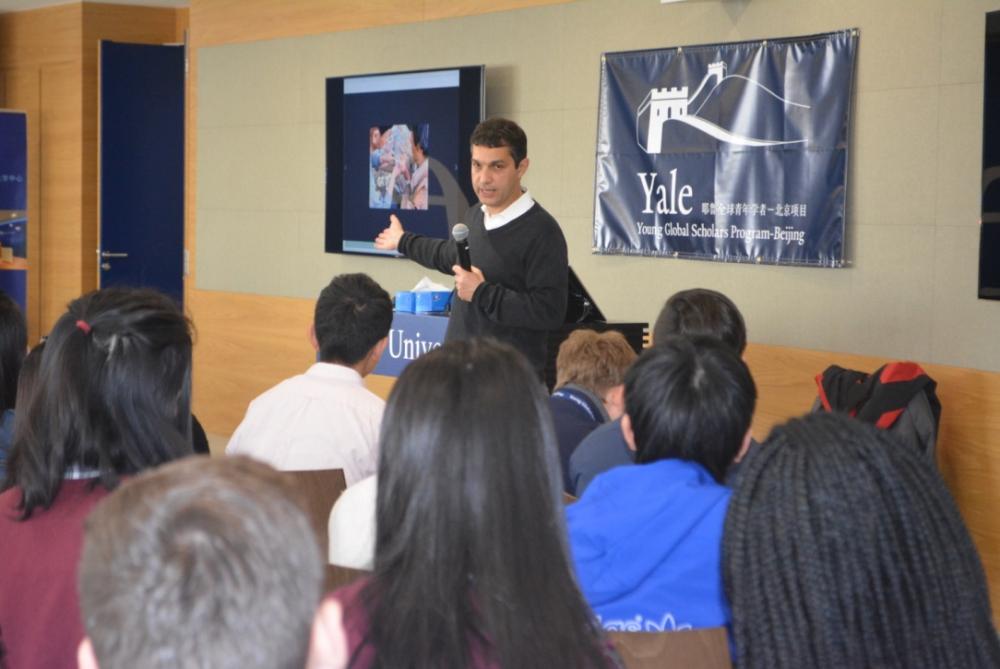 Dates: July 26 - August 8, 2018
The Asia in the 21st Century (ATC) session of the Yale Young Global Scholars program aims to facilitate a deeper understanding of the region through an exploration of contemporary topics. Students will examine the cultures, histories, societies, politics, and economies of a wide range of Asian countries and analyze their influence on development at a national and international level.
If you are intrigued by any of the following (or related) questions, the ATC session in Beijing may be a good fit:
How is the Chinese economy changing and how do these changes influence the world?
How did the current situation in North Korea evolve and what are potential next steps to resolving it?
What does soft power look like and what kind of potential does it have to influence international relations?
What is the relationship between cultural identity and national identity?                                             
Although the ATC session is modeled after YYGS sessions in New Haven, there are a few key differences:
The ATC session is held in Beijing, China, and takes advantage of the state of the art facilities at Yale Center Beijing. The unique location of the program brings exciting opportunities to enhance learning through interaction with the local environment. Students hear from not only Yale professors, but also experienced professionals in a variety of fields who live and work in China, and experience Chinese culture and society first-hand through excursions to the Great Wall, Forbidden City, and other significant cultural sites.
The ATC session is limited to 90 students, compared with over 200 students at YYGS sessions in New Haven. This smaller program size ensures that program participants get to know each other on a more substantial level and promotes a strong sense of community among participants, instructors, and staff.
Student Quote:
I became more open to the world, aware of the challenges students of my same age face in their countries, but also of the fact we can easily come together to make the change and help build a stronger international community.
- Edoardo from Italy (YYGS-Beijing '16)
ATC Programming Elements
The YYGS program emphasizes an open, exploratory, and collaborative approach to learning. The curriculum helps develop analytical thinking, intellectual flexibility, written and oral communication, and teamwork skills.
Lectures: YYGS features lectures by renowned Yale faculty and leading practitioners in their fields. Lectures are intended to expose students to a wide array of new ideas, perspectives, and exciting new research.
Breakout Sessions: Following lectures, instructional staff - comprised of undergraduate and graduate students - lead small breakout sessions (typically 10-15 students) to further explore topics related to the content of the lectures. Instructional staff facilitate the conversations but students are expected to take the lead and voice their opinions, formulate thoughtful questions and responses, debate various perspectives, and consider possible follow-up experiments.
Seminars: Seminars are interdisciplinary standalone classes (typically 10-15 students) that are designed and taught by instructional staff to help students develop critical thinking skills by exploring a variety of relevant topics. Students give their preferences on a wide range of seminars available each day and will be assigned to seminars accordingly. To promote thoughtful discussion, seminars will have assigned readings that are made available to YYGS participants prior to their arrival to the program.
Capstone Project: Over the course of the two-week program, students work in Capstone project groups (4-5 students) to identify a specific problem, conduct rigorous background research, and propose impactful solutions to their peers and instructors. The Capstone project encourages teambuilding and communication in a group of diverse peers, develops critical and innovative thinking skills, and culminates in a group presentation at the end of the session.
Cultural Excursions: YYGS-Beijing will lead excursions to some of Beijing's most significant cultural sites throughout the two-week program, including the Great Wall of China, the Forbidden City, and Tiananmen Square. These excursions provide a cultural and historical context that works in tandem with the academic curriculum to deepen students' understanding of the country and region.
YYGS Family Time: YYGS Family Time is a unique opportunity for students to meet and connect with a small group of 7-8 students throughout the two weeks. YYGS Families are mentored by instructional staff members and engage in icebreakers, daily reflection, and otherwise serve as safe and supportive environments for students to share more about themselves and learn more about each other.
Talent Show: At the end of­ the session, YYGS hosts a talent show f­eaturing student participants. This is an excellent way ­for students to showcase their talents and cultural heritage.