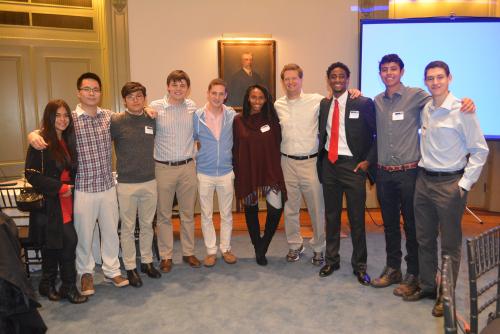 Click here for the photo gallery >>
Thank you to all of the YYGS alumni who braved the dreary New Haven weather to join us for our first-ever reunion! Participants from the 2012 through 2015 programs arrived on the Yale Campus for a jam-packed schedule of activities, which began with an early-morning presentation by Director Erin Schutte on the program's history and current growth. Executive Director Ted Wittenstein then held an informal town hall meeting with all of the alumni to discuss their role in the expansion of YYGS as well as the need to create a strong network of talented young leaders.
In the afternoon, program alumni took part in networking activities and broke out into small groups, which allowed students from different years and sessions to meet one another. This was followed by a series of short presentations by alumni and instructors. Eight members of the YYGS alumni network presented on topics which ranged from comic books and the power of storytelling to the "Internet of Things." Their presentations highlighted the breadth and depth of the academic and extracurricular interests of the program's alumni.
The day ended with a dinner in Yale's historic President's Room at the Schwarzman Center, which featured a presentation on entrepreneurship and innovation by the Yale School of Management's Associate Dean, Kyle Jensen. Over sixty people were in attendance at this event, including both college and high-school-aged alumni as well as past and present instructors. Everyone had a wonderful time, and enjoyed the opportunity to reminisce over dessert. The Yale Young Global Scholars team was thrilled to see the number of individuals who were able to join us for this event, and looks forward to hosting more reunions in the future.