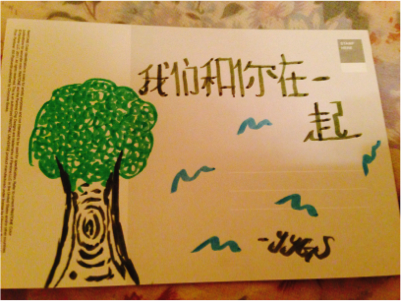 During my time at the Yale Young Global Scholars (YYGS) program, an earthquake of magnitude 8.3 struck the Yunnan province in southern China. I learned about the news on the Chinese equivalent to Twitter, Weibo, and reminisced about my experiences travelling to Yunnan as a child. Yunnan has always been one of my favorite places in China. I still vividly remember the clear sky, verdant mountains, and serene lakes. I could not imagine that an earthquake had just hit Yunnan, disturbing its tranquility and destroying the smiles on people's faces.
In addition to sending out my prayers on Weibo, I thought about other ways in which I could help the rescue and recovery process. Before I came to America for high school, I had always donated money in conjunction with my old school whenever a natural disaster such as an earthquake or flood occurred in China. However, as I learned more about how these types of disasters can affect people's lives, I realized that there is something more important than just offering financial help. Natural disasters affect people mentally and psychologically, causing many to witness the cruelty of these calamities and to lose love and hope. As much as I agreed that financial aid was urgent and effective for the affected area, as a teenage student, I believed that we could offer more mental support for people suffering from the earthquake.
An idea o
f drawing postcards for the students in Yunnan came to my mind that night. Because I am one of those people who start acting very quickly as soon as an idea is formed, I wanted to hear about my peers' opinions the very next day. After talking to them about the earthquake and my idea for drawing and writing postcards, I felt much more confident because of their enthusiasm and support. A mixed sense of responsibility and excitement rose in my mind. While I felt the pressure of carrying out such an important initiative, I was excited that I could do something for my country with students from all over the world at YYGS.
Nazli, one of my most supportive friends, and I purchased three hundred postcards, colored pencils, and markers from a bookstore across the street from Jonathan Edwards College. We started by posting announcements in the program's Facebook group to introduce the project, which we named "Postcards For China". As soon as we reached out to most of the students at YYGS, we started to distribute the postcards around campus, asking those who were interested in helping to express their feelings by drawing or writing. What touched me the most was the active participation of almost all of my peers in sacrificing their time and effort for people living in a foreign country to whom they had no direct connection. Every single YYGS student that I talked to was genuinely attentive to my story about the earthquake in Yunnan and conveyed a profound sorrow for what happened to the Yunnan people.
Beyond organizing students to draw postcards, we also reached out to the YYGS faculty and received equal enthusiasm from them. Over only a few days, the YYGS community collectively completed two hundred and fifty postcards. We spent time during lunch, between lectures and seminars, and after activities to draw as many as we could. With a sense of satisfaction and thankfulness, I appreciated all of my peers at YYGS who helped make the project possible.
The next step, however, was much more complicated than I expected. I followed a couple popular Weibo accounts which were dedicated to organizing volunteers for Yunnan. Among the few accounts that I contacted, "China's Youth League" responded to me and provided me with the contact information of the local government in Zhaotong, a prefecture-level city that had sustained severe damage and casualties from the earthquake. I was fortunate enough to talk to Mrs. Zhang, who works at the local government and was willing to help deliver the postcards to a local school in Zhaotong. Through several talks over the phone with her, I introduced the YYGS program and talked about how the students at YYGS wanted to deliver their heartfelt wishes and prayers to the students in Yunnan.
I mailed all two hundred and fifty postcards and a couple photos of YYGS students drawing the postcards to Mrs. Zhang, who chose the Longquan Elementary School as the recipient of the cards. With Mrs. Zhang's support, two classes of students at Longquan Elementary School received the postcards on September 8, 2014, the same day as China's Mid-Autumn Festival. According to Mrs. Zhang, the students were all very excited to receive colorful postcards from people in another country. They chose a student representative to write back to YYGS and send greetings by drawing pictures.
The letter was so touching that I could hardly finish reading it without tearing up. I felt the students' gratitude for receiving the postcards. An especially memorable statement that the student included in the letter was that "when some of their family members, friends, and beloved ones left them in the earthquake, it felt like a beam of sunshine in the snow to receive the postcards from some strangers who think and care about their safety and wellbeing."
Looking at the reemergence of smiles on the faces of some children in the pictures that were sent back to me, I was immensely gratified and knew that my YYGS peers and I had finally made it happen. Over the course of carrying out this project, I met many challenges and encountered numerous problems regarding this feasibility. The most commonly asked question was how would the students be able to understand the writing if the postcards were written in English. I have always believed that the type of language is not a significant deterrent to the delivery of our feelings. Rather, I encouraged those creating the postcards to write in Spanish, Portuguese, Korean, and basically whatever language they were capable of communicating in. The purpose of the project was to convey our most earnest blessings to the people suffering from the earthquake. By incorporating drawings, students in Yunnan would still feel the love expressed by those who do not even speak their language. In addition, I prompted the Chinese students at YYGS to write several postcards in Chinese, so that there would be an appropriate balance for the Yunnan students between postcards they could and could not read.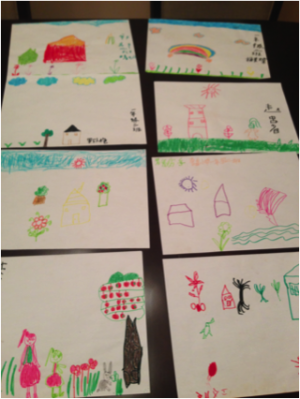 Choosing students as the group selected to receive the postcards was a mutual decision between some of my YYGS peers and me. Because they are at an easily vulnerable age, we believed that it was important for the children to still believe in love and hope. Although we cannot contribute financially to rebuilding their community, we were able to make the children happy again, if only temporarily, which I believe is something that money cannot buy sometimes.
Last but not the least, special thanks again to everyone who has helped make this project happen. I am continuing this project in my high school and hope to see more kids in Yunnan receiving joy from our love and blessings.