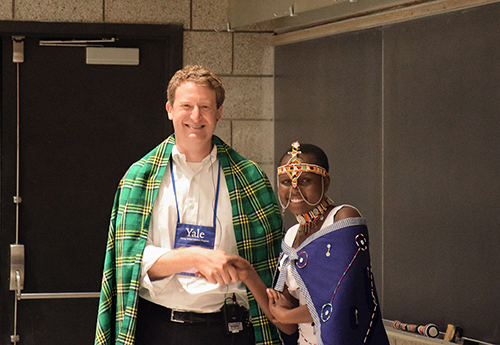 Lily Tanui is a Yale Young Global Scholars (YYGS) alumna who is passionate about environmentalism. As a child Lily helped her father plant trees to combat deforestation in Kenya. She has educated others about the environmentalist movement ever since.
After attending the 2016 YYGS Sustainability, Energy, and Environment (SEE) session, Lily learned how renewable energy helps combat climate change. She used the experience to exchange ideas with other students, and she left YYGS feeling empowered with new knowledge. Lily believes that she and her peers are the game changers of her generation.
Lily works closely with the community to raise awareness on environmental issues. She has organized events to collect litter and plant trees at a nearby health center and local school. Prior to participating in YYGS, Lily was invited by Former President Obama's grandmother to visit the Obama homestead in Kenya. Lily planted a tree near the grave of Barrack Obama Senior as a tribute to her environmental work. Lily hopes her initiatives will encourage others to advocate for a cleaner, healthier planet.
In the future, Lily hopes to start an environmental conservation foundation in Kenya. She plans to use this platform to educate the public on the negative effects of deforestation and urge people to embrace renewable energy. She also plans to expand her afforestation efforts in neighboring countries. Ultimately, Lily wants to create a world where the environment no longer requires protection.
Learn more about Lily's environmental activism here: