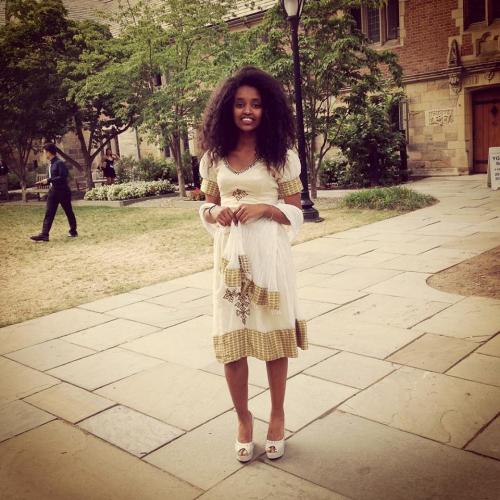 I don't remember the first time I heard about Yale but I suppose it was from the high school movies I used to watch. The only thing I certainly know is when I was in the ninth grade, I was aware of the existence of a university called "Yale" in the United States and I wanted to know more. In the second semester of ninth grade I saw the name "Yale" on a paper that was posted on our school's notice board and I didn't have to think twice about going to read what it had to say since I was so eager to know what it was about. The notice mentioned a program called "Yale Young African Scholars" (YYAS) but I was very confused since I never heard about such a program before. I immediately called my friends who were juniors and whom perhaps knew more about it, hoping they could explain some details to me. We stood in front of the board for about 20 minutes before writing down the website address to figure out more information later. The next morning however, our principal told us about the program, and at that moment I understood it was a summer program, but still without any further information. So I just decided to apply. I told my two friends to try it as well, and they decided to apply too. After completing the application, I received my notification shortly getting accepted for the first YYAS program with a chance to spend five days in Debre Zeit, Ethiopia with 50 other African Scholars.
YYAS helped to broaden my scope outside of school, having a life changing impact on my future and how I viewed it. The next school year after YYAS wasn't like the past ones because previously I always felt like I knew what I was supposed to know; doing great whenever I get good grades. My point of view was limited to homework and exams, never trying to explore my reality outside of the confines of school. All of my work was in one way or another related to, and therefore limited to my school. All my ideas were aimed at getting good grades and passing classes never concerning myself too much with the world's current issues. During my time at YYAS, I had heard about the Yale Young Global Scholars Program (YYGS) and African Leadership Academy (ALA). In Ethiopia, only 15% of the country is defined as urban and there is little to no internet access anywhere outside of a few of the bigger cities. Luckily, I live in the city and have an internet access. But I've never used it for further research other than social media or to get resources for some school assignments. Once I know about such programs, I started utilizing the internet for more information. I applied to both YYGS and ALA while also working on my applications for and reading more about U.S. colleges. By the second semester though, I was accepted to both programs, opening up a whole new realm of possibilities for my future educational and personal directives.
Attending all the interesting lectures and seminars we took, meeting with amazing people from all around the world at the beautiful campus of Yale was a great experience. From dusk to dawn, I enjoyed every little moment at Yale including the Capstone projects, the lectures and discussion sessions, the seminars, the family times, my talented and amazing suitemates, the instructors and everybody else who went to make it all a special experience. I made lifelong friends and gained life changing experiences in just two weeks, and on our graduation, I was wearing a traditional cloth of Ethiopia proud to represent my country. Even though I was just wearing the traditional cloth in Yale's W.L.H hall, I was able to view myself over the course of the next decades representing my country on the world's biggest stages. For my personal and professional development, that was a great hope and something I will continue to cherish.
One of the programs at YYGS was a talk from a Yale admissions officer. She was telling us about how to apply there, including college life and other related things. The one that I liked the most from the items that she told us was her own personal story about her first day at Yale. I was imagining myself in her place the whole time reminding myself that no matter what, I should be at Yale and promised to do what it takes to get there. I was surprised, as I never had something with such a firm belief and foundation as a future plan before. But now Yale is my goal and I have started the journey to reach there.                                                                     
If it wasn't for Yale, I would have been the same girl as I was in middle school – working for grades and having fun in vacations. I wouldn't know about the best school in Africa and wouldn't have met some of the most amazing and talented people ever.  But now, Yale has introduced me to the outer world. I am not limited to school now; I strive for more things that can lead to a better future of myself, my country, my continent, and the world. I want to thank Yale and the energetic and enthusiastic people there who likewise dream about a better world and who work hard to make the youth of this generation great leaders for the future. Yale is always in my heart and I know I will get back there soon. Once again, thank you for connecting me to the world and showing me a brighter future.
By: Bethel Y. Endawoke from Addis Ababa, Ethiopia