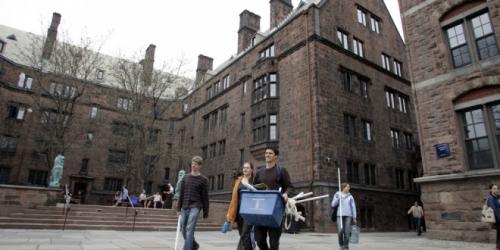 For Erin Schutte, opportunities did not come easy. Growing up on a small farm that faced lots of setbacks, she has, by her own confession, thought that studying at Yale University was not something to be easily achieved. Yet, she was accepted and soon enough excelled in her academics to become a leader of student groups at the university.
I grew up on a small farm in the Great Plains of Minnesota where all you see are miles and miles of corn fields. No one from my high school had ever gone to Yale, and I had never met anyone who could tell me first-hand experience of this world-famous university. For me, coming to Yale as a student back in 2008 was like traveling to a different planet. When I first arrived to campus, I arrived by myself and without my checked luggage, which had somehow gotten wrongly routed to San Diego, over 3,000 miles away. I showed up to campus for a pre-orientation backpacking trip without a backpack and without hiking shoes, not really sure if I would be able to join my future classmates on this exciting journey. But, I was greeted with open arms and friendly faces – someone even found an old pair of hiking shoes in a gym closet, and with extra thick socks I hiked with a group of newfound friends up the Appalachian Trail and had a blast. Attending college at Yale was an opportunity of a lifetime. Yale opened my eyes to the breadth and depth of international initiatives that I could get involved in during college and beyond – says Erin.
After graduation in 2012, Erin Schutte started off working as a Woodbridge Fellow in the Office of International Affairs at Yale University. After the conclusion of the fellowship, instead of exploring new opportunities outside of Yale like the rest of her fellow cohort, she accepted the position of Assistant Director of the Yale Young Global Scholars Program. This September, she has been promoted into Director of the Yale Young Global Scholars where she is continuing to make a difference in empowering the generations of young global leaders to become inquisitive and accomplish their academic dreams.