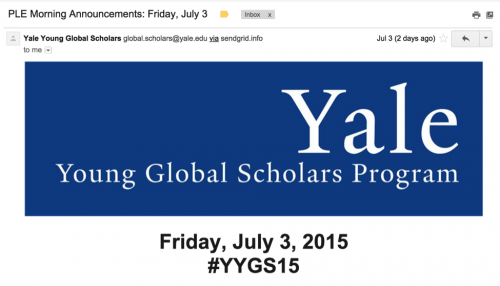 7:30 am – I wake up to hear students already laughing in the courtyard. The first thing I do every day is check my email for the morning announcements, which gives us a rundown of the schedule, shows us the dining hall menu for the day, and presents us about opportunities to have a meal with a professor or instructor.
8:00 am – It's time for breakfast. I step out into the Jonathan Edwards College courtyard and meet up with friends along the way to the dining hall.
8:40 am – After grabbing a cappuccino for the road, my friends and I leave the dining hall to go to Sudler Hall, where the morning lectures are. Today we are hearing from Jake Sullivan, who has served as national security advisor to Vice President Biden and deputy chief of staff to Secretary of State Hillary Clinton, among other incredible achievements. He teaches us about foreign policy and tells us stories of negotiating ceasefires and being stuck in a tiny room with many countries' leaders during a snowstorm. A large group of us stay after the lecture to ask him questions.
10:45 am – We split off into smaller discussion sections to talk about the lecture, and my group has a compelling conversation about how Turkey should go about controlling its borders and how cyber warfare should be regulated.
11:45 am – Today I have lunch with one of the fabulous instructors here. He gives me life advice and tells me about his next project advocating for LGBT rights abroad.
1:15 pm – My seminar today is about how Apple rose to become a technology superpower. The seminars are always great because there are 10-15 people from all over the world sharing their perspectives on a topic. One of our activities was to use SWOT analysis to create a new company in direct competition of Apple.
3:30 pm – When we talk about our family, it means our YYGS family. During the program, we are assigned an instructor and a group of students to call family. By the end of the two weeks, they've become our brothers and sisters, and we call our instructor "dad." Today, our family heads to a used bookstore on campus.
4:30 pm – Today we are lucky enough to have some work time to finish our Capstone Projects. The project includes an academic paper and a presentation about a topic of our choosing. My group is deliberating on possible solutions to prevent Google from invading its users' privacy in the process of creating new products. Here's us two days later with our project advisors after finishing our presentation. Although it was a lot of work, it was a very rewarding experience.
5:45 pm – It's dinnertime! We're back in the dining hall today. But sometimes we have picnic dinners, as seen above.
7:15 pm – We have an evening Capstone Project session to keep working on our paper and presentation.
9:00 pm – It's finally free time! After a busy day, some students grab a snack at local ice cream shops, others play music while lying on the courtyard hammocks, and I go down to the basement where there's games and friends.
---
Link to YYGS video tribute: https://youtu.be/57s6hgDpKas