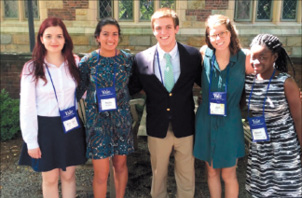 Published in the Los Altos Town Crier
---
When Nadia Ghaffari went to Yale University this summer for a global program for high school students, she made friends from countries such as Pakistan and Ghana. They discussed more than TV shows and Snapchat, though – they also shared their experiences with mental health.
"We talked about issues of stress and pressure," said Ghaffari, a junior at Los Altos High School. "I realized it's not just here, it's a worldwide issue."
As a sophomore, Ghaffari started TeenzTalk.org. Her mission was to create a global community where teenagers could share their stories, inspire each other and embrace the lessons that come from failure.
"I created the website as a way for teens to come together in a positive and inspirational environment," Ghaffari said.
She initially started TeenzTalk as a response to a Centers for Disease Control and Prevention study on suicide clusters in Palo Alto, a tragedy she said opened her eyes to the pressure students feel to be successful.
Global understanding
When Ghaffari arrived in New Haven for the Yale Young Global Scholars summer program, she understood that such stresses weren't particular to Silicon Valley teens.
"Stress is an issue for all students, no matter where you are," she said. "These students around the world experience the same pressures."
The first thing Ghaffari did was encourage her peers to open up.
"I'd ask them a few questions," she explained, such as how students experienced failure, and pointed to how failure could lead to growth.
Presenting this sort of testimony online would allow teenagers to understand that even people with incredible life experiences have had to deal with stress.
"This gives them the message that they are not alone, and that a good way to find happiness is finding a thing they love to do," Ghaffari said. "I want to create an environment where we are collaborating instead of competing with each other."
Ghaffari chose the Yale summer program because it dovetailed with her interest in medicine and public health.
"One of the most important parts of medicine is communicating," she noted.
The program gave her the opportunity to speak with people from very different backgrounds, but whose pressures were relatable.
Ghaffari told the story of a friend she made from Tanzania.
"She would be the first person in her family to go to college," Ghaffari said. "Her stresses weren't in finding the right school, but in making it through university at all. She felt such a pressure to succeed in college and provide for her family, a pressure to let them survive in the future. There were not many people in her village who understood that because they did not have her level of education."
Online action
Whether in California or Tanzania, students agreed that the most important thing was finding happiness and using family support as motivation, not a roadblock.
The TeenzTalk Facebook page currently has a few hundred "likes."
"My early goal would be to get enough people … so they can regularly post and provide input," Ghaffari said.
She has also formed a group of 10 teenagers to collaborate on special projects to help her expand. In the future, she hopes to turn TeenzTalk into a global forum on teenage well-being and mental health.
"I want to help global teens unite and stay together," she said.
For more information, visit TeenzTalk.org.