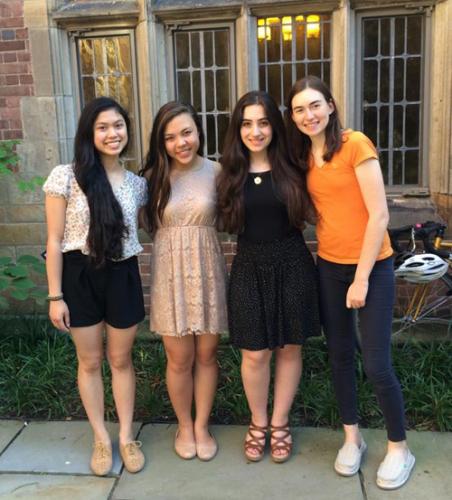 Anxious and intimidated, I stepped onto the Yale campus for the Yale Young Global Scholars Program in Science, Policy, and Innovation with a minute sense of confidence. Initially, doubts ran through my mind that made me question my own knowledge and capabilities. For two weeks, I would have to spend a rigorous academic schedule amid undoubtedly brilliant students, which made me feel completely unprepared for the program. To my pleasant surprise, however, my qualms and predispositions to my YYGS peers and the program itself were futile for not once was there any sort of competition present. Instead, I felt a sense of comradery so genuine that I became more inspired to learn and grow as a person. I met amazing students from across the country and the globe, each one with their own unique culture and story.
Living in Yale's oldest residential college, Jonathan Edwards, was like a dream. No words exist to accurately describe the beauty of the University's Campus. Getting my first college experience there in New Haven was a truly a blessing. Rather than being buried by all of the readings and assignments, I found myself challenged and enlightened in an environment that fostered creativity and curiosity. After our daily lectures and seminars (whether on climate change, solar energy, the global AIDS epidemic, ethical challenges and leadership in global health, etc.), we were placed in groups where we were encouraged to discuss and debate the topic of the day. Some days, I was even lucky enough to be able to have lunch with a few of the Yale professors to further discuss an issue.
This was truly a once in a life time experience that I will never forget for I can sincerely say that the Yale Young Global Scholars Program opened my eyes not only to today's global health issues, but also to my own individual needs as both a striving student and as a young adult about to embark on life.
Note:
Pamela wrote a one page article in her school's September 2014 newsletter about her experience as a Yale Young Global Scholar in the Science, Policy, and Innovation session (page 12)!
Click here to read it >>