Join Us (for Current Yale Students and Recent Graduates)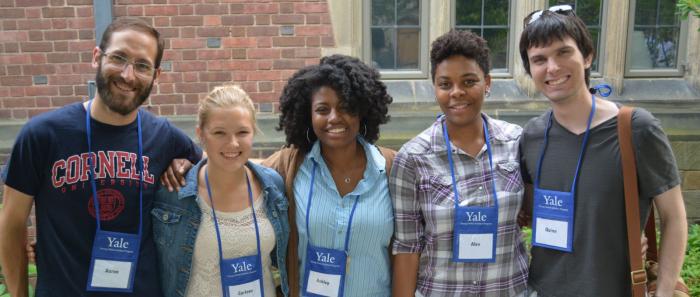 The Yale Young Global Scholars Programs (YYGS-New Haven, YYGS-Beijing, and YYGS-Singapore) and the Yale Young African Scholars Program (YYAS) will be looking for current Yale students and recent graduates to fill various key positions in the domestic and international sessions for 2017. 
If you are interested in employment opportunities with YYGS, complete this form to receive information about open positions and information sessions (Current and recent Yale students only) >>
QUESTIONS on employment with YYGS? Email: join.yygs@yale.edu
Dates for the 2017 Programs are as follows:
Frontiers of Math & Science (FMS)
Sustainable Development  & Social Entrepreneurship (SDSE)
June 19 - July 2, 2017
Applied Science & Engineering (ASE)
International Affairs & Security (IAS)
July 9 – July 22, 2017
Politics, Law, & Economics (PLE)
Biological & Biomedical Science (BBS)
July 27 - August 9, 2017
YYGS-Beijing:
February 3-11, 2017
Instructor application is now closed to new applicants.
YYGS-Singapore:
TBD
YYAS:
July 27 - August 24, 2017
 
Applications for all positions will be reviewed on a rolling basis and will remain open through the deadline or until all positions are filled. Please apply by selecting the position you are applying for in the EMPLOYMENT APPLICATION box in the right side bar. Please email us if you have any questions.
| | |
| --- | --- |
| VOLUNTEER |   |
| DEADLINE | POSITION |
| Applications are ongoing | YYAS Mentors - year-round volunteering |
PAID

 
DEADLINE
2016-2017 STUDENT POSITIONS (click links to read job descriptions)

(CLOSED) Friday, December 16, 2016.

YYGS Application Readers

(CLOSED) Friday, January 13, 2017

(CLOSED) Friday, January 13, 2017

YYGS Lead Instructors (All Sessions in New Haven)

YYGS Instructors (All Sessions in New Haven)

(OPEN) Applications are reviewed on a rolling basis, so apply early! Must be received by March 6, 2017.
YYGS Assistant Directors of Residential Life
(OPEN) Applications are reviewed on a rolling basis, so apply early! Must be received by March 6, 2017.
(CLOSED) September 19, 2016
YYGS-Beijing Instructors
TBD
YYGS-Singapore Instructors
(CLOSED) Thursday, November 17, 2016
YYAS Associate Fellows